JEFFERSONVILLE, Ind. (WDRB) -- Mayor Mike Moore highlighted prosperity throughout Jeffersonville on Tuesday during his annual State of the City address at the Rotary Club.
Moore started the speech by congratulating the Rotary Club on its 100-year anniversary. It is Moore's third term in office and his ninth time addressing the Rotary Club.
The business boom in town includes River Ridge, Xcape Theatres opening in the near future, Chapel Lake Park opening in a few months, plans for a 14-acre park at the corner of Charlestown Pike and Woehrle Road and more.
"I am proud to report the state of our city has never been stronger," Moore said
Moore said some of the success is the result of taking city hall to the neighborhoods.
"This gets you in contact with people you otherwise would not come in contact with," he said. "Not everybody is going to come down to city hall."
Since taking office, Moore said his administration has hosted or been part of 114 neighborhood meetings.
"We'll have anywhere from 20 to 80 people show up," he said. "Usually, in about an hours time, it turns out to be extremely productive,"
Moore said the city has also seen a reduction in crime, and the police department is thriving under the leadership of Chief Kenny Kavanaugh. Moore said the Jeffersonville Fire Department is on the verge of becoming a premiere Indiana department. In just a few months, longtime Chief Eric Hedrick is retiring, but Moore has already named a replacement. On March 16, Shawn Grant will be sworn in as the next fire chief.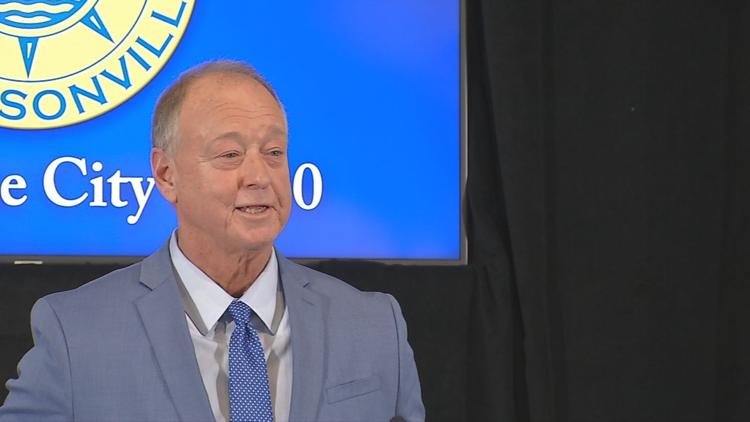 "We continue to prove that you can provide the best services to citizens without raising taxes," Moore said.
Chip Pfau, a Jeffersonville native, Rotary member and local business owner, liked what he heard Tuesday.
"Everything is moving in the right direction," Pfau said. "He's talking about housing. He's talking about the new school, downtown, grade school, everything has been positive."
But Moore admitted that not everything is moving forward as planned.
"You learn from your mistakes," he said.
Moore said the Holmans Lane project is behind schedule and a disappointment.
"This project should have been done by now," he said.
Moore also said the city will eventually add at least 5,000 new housing units to keep up with the expected growth. He closed the speech with an appeal or a challenge.
"Friends, Jeffersonville is the best it has ever been," he said. "And it's getting better every day. We have a window of opportunity before us right now — and a responsibility to each other — to never settle, to keep working together and to take Jeffersonville to the next level. We've laid the foundation for a bright, bold future for everyone.
"So as you leave here, keep in mind that our greatest opportunities happen when we forge partnerships. It's those partnerships that will distinguish Jeffersonville from its neighbors."
Copyright 2020 WDRB Media. All Rights Reserved.