LOUISVILLE, Ky. (WDRB) -- COVID-19 infections in Kentucky are continuing to escalate, but the virus also is continuing to become less lethal.
For the third time in four days, Kentucky recorded more than 1,000 new COVID-19 cases, and Gov. Andy Beshear warned that the situation was "getting dangerous."
Through the first six days of this week, the state has recorded 4,883 cases, which is 743 infections ahead of last week's pace, which was a record high.
"We have to do better," Beshear said.
The governor also reported six more novel coronavirus-related deaths, bringing the total death toll in Kentucky to 1,197. For the week, the state has suffered 43 deaths, about on par with the last two weeks but also the second-lowest Sunday-Friday total in the last seven weeks.
About three-quarters of the Kentuckians who died were at least 70 years old. About half were at least 80.
Kentucky's mortality rate, or the share of infected people who die, continues to decline. The rate slipped below 1.7% Friday, which is down more than half from early July.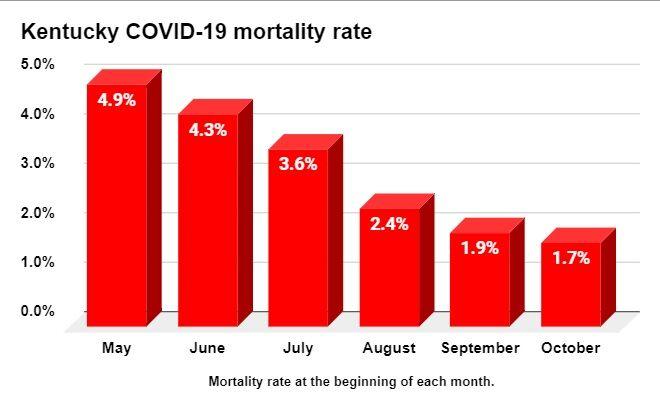 Whereas in May, one Kentuckian would die out of every 20 who got infected, now it's one death out of every 59 infections.
Kentucky's rate also is significantly below the 2.8% reported by Indiana and the nation, as well as Ohio's 3.3%.
The difference of one percentage point may appear small but has a big impact: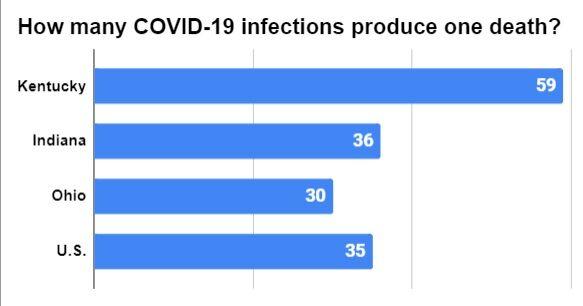 Nonetheless, Beshear has said that a higher number of cases, even with a low mortality rate, means more deaths. For example, this week's new cases so far would, at the state's current mortality rate, produce 83 deaths.
"The situation is getting very dangerous in Kentucky," Beshear said. "If you care about your economy, if you care about getting your kids into school, if you care about the lives of those around you, put on your mask."
Copyright 2020 WDRB Media. All Rights Reserved.