LEXINGTON, Ky. (WDRB) -- When Gov. Matt Bevin signed the new law requiring all schools in Kentucky to display "In God We Trust" in a prominent place, he probably had something specific in mind.
That vision is not what you'll see if you walk into any Fayette County school today.
Fayette County Schools framed enlarged $1 bills to comply with House Bill 46.
"If that's meant to be cute or clever ... What is it we hope to accomplish by trying to circumvent the intention of a law," Bevin said.
Brittany Pike, who has three children in Fayette County Schools, the youngest a student at Athens Chilesburg Elementary in Lexington, said she's pleased with the display.
"I was not pleased with the law was passed to begin with, but as far as now, it's a requirement," Pike said. "I'm pleased the school did in a way that didn't make students feel ostracized."
Pike, an atheist, posted a picture of the school's display on social media. It's made headlines across the country, recharging the debate on the separation of church and state.
"We are human beings. We need to have some guidelines to go by, and if you don't believe in the supreme being, you're lost, and it needs to be there," said Dorothy Tribone, a Fayette County grandparent.
The image above is the only picture available of the dollar bill in the picture frame. It's hung in school office, but FCS wouldn't let anyone get video of it, no one would talk on camera about how the decision was made.
"Like every school district in the Commonwealth, Fayette County Public Schools has complied with the requirements of the new law to display the national motto in our schools," Superintendent Manny Caulk said in a statement. 
The bill left leniency for districts to decide how and where to display "In God We Trust." Reactions online both panned and praised Fayette County Schools and prompted others to post how the motto is shown on their campuses. 
"They're only robbing their own students of the significance of understanding the importance of God in this nation's history," Bevin said.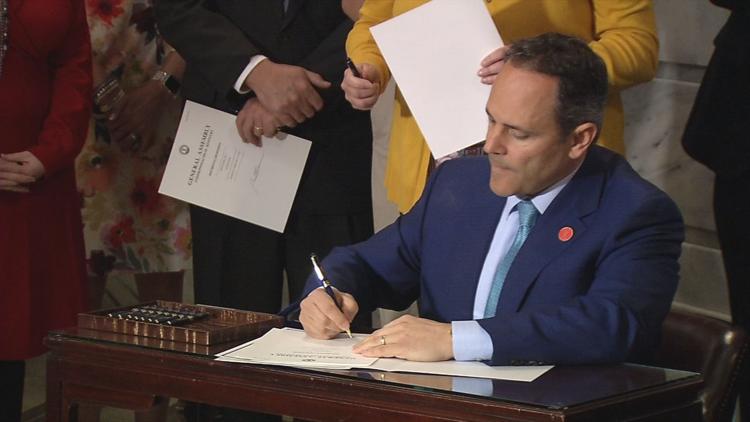 The state's largest school system, Jefferson County Public Schools, printed a design with the words and a short story on the history behind them.
"I saw it as sort of a middle ground," said Detryck Von Doom, an atheist and JCPS parent of three. "JCPS was trying to play it safe and tiptoe around the minefield."
Because "In God We Trust" was adopted as the national motto in 1956, filing lawsuits against the new state law could be complicated.
"Any potential legal challenge would need to focus on very specific and individual implementation of this law," said Amber Duke, a spokeswoman for the ACLU of Kentucky. "That's why we are asking parents and students to get in touch with us if they have concerns about the specific displays at their schools."
What will history say of Fayette County's decision?
"Everyone believes differently," Pike said.
It's still being written. 
Copyright 2019 WDRB Media. All Rights Reserved.