FRANKFORT, Ky. (WDRB) -- As the state began offering in-person assistance Monday, thousands of Kentuckians will have to wait more than a month to get an appointment.
Those needing help have to sign-up online, or visit in-person, to schedule an appointment. 
As of now, there are three locations offering assistance: 
Mayor-Underwood Building (Frankfort)
Owensboro Community and Technical College (Owensboro)
Ashland Community and Technical College (Ashland)
Set to offer help indefinitely, Frankfort's appointment times are already booked through July and into August. The Owensboro and Ashland sites are already booked for their two days of service on June 29-30. Now, the Kentucky Labor Cabinet said two more locations will offer assistance on July 7-8.
In Frankfort on Monday, people were lined up waiting to both schedule an appointment and arriving early for their actual appointment.
"We had to wait a little bit today, but it was worth it," said Brian Lester, who talked to WDRB News right after his appointment.
UNEMPLOYMENT: A group of people wait outside the labor cabinet for unemployment assistance appointments. Already, the appointments are booked through August 5. This is the first day of scheduled appointments. pic.twitter.com/G3t9UHbtPB

— Dalton Godbey (@DaltonTVNews) June 29, 2020
Lester and several others said they were able to get their issues resolved, but it required being ready to sign up for an appointment as soon as registration went live online.
"We got on there yesterday morning about 7 when they were opening up, I believe," he said. "We got on there and got an appointment at 11:45."
Lester is one of many who have struggled to keep up during the pandemic because of unemployment. Thousands of Kentuckians have yet to receive their unemployment checks.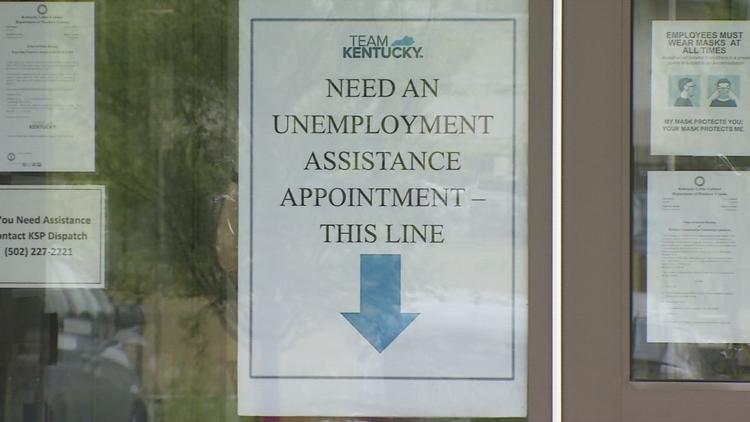 "I been waiting since March on unemployment," said Greta Foster, who was waiting for her appointment Monday. "Single mom, four kids, it's been tough."
Now, those wanting appointments will have to wait until at least August to get in, and those dates are booking up fast. For those who do get in, the process seems to be helpful, and those people are hopeful it makes it easier on everyone experiencing issues.
"At least I'll get to talk to somebody and figure out what to do next," Foster said.
You can click here to schedule an appointment or call 502-564-2900.
Related Stories:
Copyright 2020 WDRB Media. All Rights Reserved.