LOUISVILLE, Ky. -- Kentucky's COVID-19 mortality rate has fallen by about 64% since mid-May, which means the share of people who die after testing positive for the virus has declined by about two-thirds.
In mid-May, one Kentuckian died for every 22 cases. Now, the state sees one death for every 63 infections.
"A lot of things are improving," state Health Commissioner Dr. Steven Stack said in a news conference Wednesday.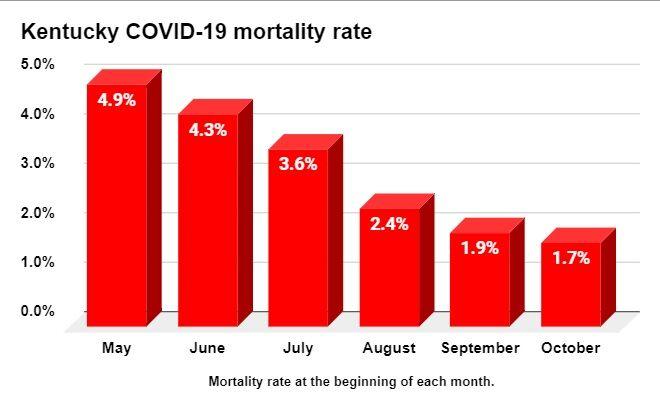 Dr. Paul Schulz, an infectious disease specialist and the system epidemiologist for Norton Healthcare, said a smaller share of infected people are dying because of reasons including early detection and better treatment and because a larger share of cases is popping up in younger people, who are much less likely to die.
"If you have younger, healthier people getting infected, the mortality rate is going to be lower," he said. "If you have an outbreak among older individuals with more co-morbidities, that's going to raise the mortality rate."
Before June, more than 17% of cases were detected in people over 70, according to state data. Since early June, it's been less than 11%. Meanwhile, before June, cases in people under 40 accounted for less than 38% of the total. Since early June, more than half the cases have been detected in people under 40.
Think open restaurants, back to the office and college parties.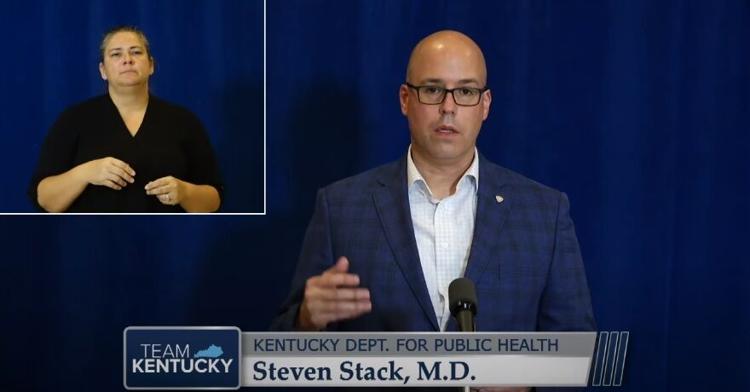 On peak days, Stack said the state is now testing more than 20,000 people, whereas the state was happy early on when it could test just 30 people a day. More testing means the state is finding more cases among people who do not have symptoms, who do not need to go to the hospital and who do not die.
And young Kentuckians essentially don't die from COVID-19:
Since the pandemic began, Kentucky has recorded 36,232 infections in people under 40. Eight of those people have died. That means about one person dies out of every 4,529 infections in that age group.
One Kentuckian between ages 20 and 29 has died, out of more than 14,000 infections.
And out of more than 8,000 infections among people aged 10 to 19, none has died.
State data also shows that survival rates are improving even among the oldest Kentuckians: Before June, Kentucky octogenarians who tested positive had a one-in-four chance of dying from the disease. Since early June, their risk of death has fallen to one in nearly eight.
Schulz said testing has helped, too, because more testing means the state can detect infections before people show symptoms.
"It also allows you to provide care more quickly for those who are most vulnerable," he told WDRB News via email.
And health care professionals are getting better at treating the disease, Schulz said.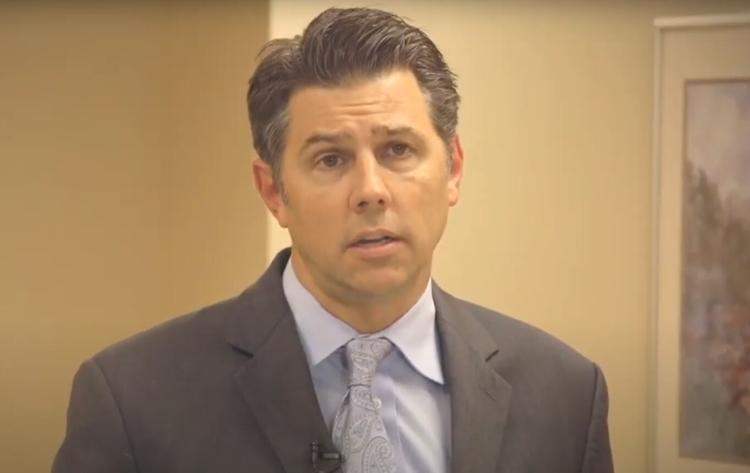 "Hospitals in general now know more about COVID-19 than they did in March," he said. "At Norton Healthcare, we now have access to clinical trials that we did not have early on."
The more positive recent data has also made national and local death projections much less grim. As recently as a month ago, the Institute for Health Metrics and Evaluation, at the University of Washington, projected more than 415,000 deaths nationwide by Jan. 1. That model now projects just over 363,000 deaths.
For Kentucky, the IHME model has recorded an even bigger improvement. As recently as a month ago, the institute projected Kentucky would, by Jan. 1, see more than 4,000 deaths. The IHME now projects fewer than 2,600 deaths.
Questions and dangers remain
Stack has said that while it's established in the scientific community that masks prevent infections, some doctors also believe masks may lower people's risk of a severe case if they become infected — but that's not yet clear.
And while some medical experts say it's possible that the virus is getting less lethal, Schulz said, "We just don't know at this point."
But in Kentucky, at least, fewer people who are testing positive are dying from the disease.
The state's overall mortality rate of COVID-19 is under 1.6% now, down from nearly 4.5% in mid-May. And Kentucky's rate remains significantly below rates in Indiana, where it is 2.7%, and Ohio, where it is at 3.4%.
Those differences may look small, but with tens of thousands of cases, they're having a big impact. For example, Ohio has about twice as many infections as Kentucky, but it has more than four times as many deaths.
In Ohio, one person dies for every 31 infections. In Kentucky, it's one in every 63.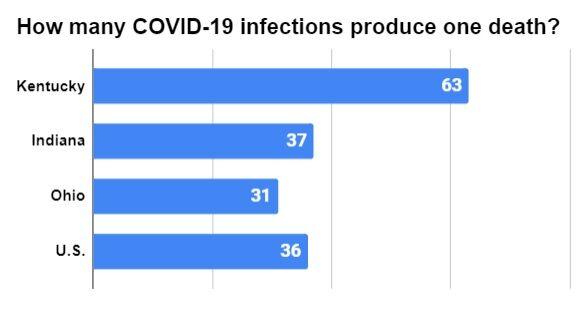 Gov. Andy Beshear said in Thursday's COVID-19 news conference that he believes that many groups deserve credit for Kentucky's superior performance.
Hospital systems have done a "phenomenal job," he said, and the state has clearly communicated when people need to get tested and when they need to seek care.
Beshear also credited his father, former Gov. Steve Beshear, for expanding Medicaid in 2013, which provided health insurance to an additional 450,000 Kentuckians. That better access to care has saved "thousands" of lives, Andy Beshear said.
Stack said the overall mortality rate of COVID-19 won't be known for a while, but health experts predict the rate will end up somewhere between 0.7% and 1.5%
While that may not sound very high, Stack said the rate is still "alarming" because the virus remains, on average, about 10 times as lethal as the flu.
During the 2019/2020 flu season, 38.2 million people in the U.S. got sick, and nearly 22,000 died, according to data from the Centers for Disease Control and Prevention. This year, COVID-19 has already killed more than 210,000 people. That death toll likely would be significantly higher if not for the steps the nation has taken to curb the spread of the disease.
State data also shows that for people under 50, COVID-19 is about five times as lethal than the flu. The flu mortality rate for people under 50 in the U.S. is 0.01%. In Kentucky the COVID-19 mortality rate for the same population has been 0.05% since early June. Put another way, people under 50 have a 99.99% chance of surviving the flu and a 99.95% chance of surviving COVID-19.
While those numbers might suggest that Kentucky should ease up on pandemic restrictions, mortality rates for people older than 50 do not.
For people over 50, COVID-19 is about 19 times deadlier than the flu, according to data from the state and the CDC.
In the 2019/20 flu season, nearly 28 million people under 50 got sick, but only 3,103 people died. During the same season, nearly 10.4 million people 50 and older got the flu, and nearly 19,000 died.
If flu were as deadly as COVID-19, for people under 50, 28 million infections would produce about 14,000 deaths, or about 11,200 more than died from the flu.
But for people aged 50 and older, 10.4 million COVID-19 infections would produce 361,000 deaths.
If that still sounds benign compared to early projections in the pandemic, consider that the calculation of 361,000 deaths is based on Kentucky's 50-and-older mortality rate since early June. A flu-like pandemic, with 10 million infections among people 50 and older at Kentucky's pre-June mortality rate would produce nearly 1 million deaths.
And those calculations exclude people who survive the disease but deal with long-term complications, many of which may not yet be known.
Stack said Wednesday that while a lot of things are improving, even the current COVID-19 mortality and hospitalization rates could easily crush the state's health care system and morgues.
"I've done this math before: If one-and-a-half million, one third of our people get sick over a year, and 1% die, it's 15,000 deaths," he said.
"And if you have five times that admitted to the hospital, it's 75,000 hospitalizations with an average length of stay of at least five days or so.
"It would overwhelm the hospitals," Stack said.
Copyright 2020 WDRB Media. All Rights Reserved.