CROTHERSVILLE, Ind. (WDRB) -- Two months after a Crothersville man was nearly killed by a stray bullet while sitting in his home, a similar situation happened Thursday.
Jim Grace was standing in his front yard with his son and brother when bullets were shot into his home around 10:30 a.m. Thursday.
"It's traumatized everybody that lives here," Grace told WDRB News. "My brother was standing out here, and he thought a bug had buzzed his ear. It just buzzed past him, and he swatted at it."
The "bug" was one of five bullets that lodged into Grace's home. His oldest son was walking through the hall as the bullets went into the wall.
"As (the bullets) were missing us they were just missing him in the house," Grace said.
Jackson County deputies say two kids around 12 years old were shooting birds off a feeder with a rifle about 800 yards away. The bullets traveled across a corn field and ended up in Grace's house.
Deputies say the boys' mother was at home at the time of incident.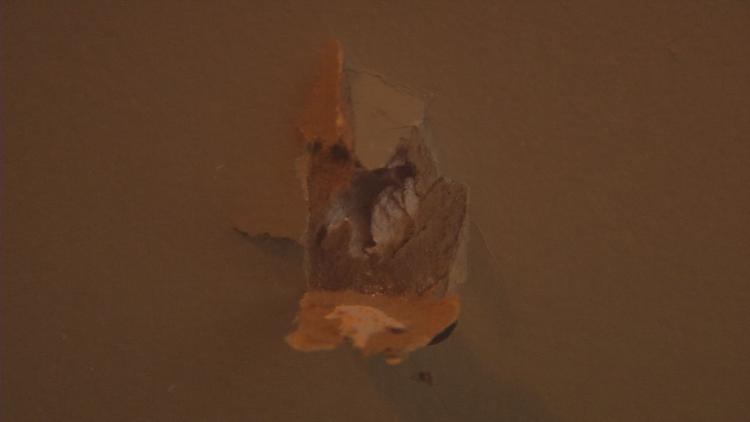 "This had to be the closest that I would ever have to think about as a drive by without a car ... I no longer hang out in my front yard," Grace said. "Everything I do is in the back yard."
In April, Grace's neighbor was sitting at a computer in his home when a bullet went through the wall and into the computer screen. He was not injured. Deputies think Thursday's incident was another example of being careless with a firearm.
"I am not against guns, but if you're going to shoot one, know what you have in your hands," Grace said. "I can't explain how we're all still here. Only thing I can say is guardian angels were watching over us, and they were putting in some overtime."
The Jackson County Sheriff's Office said since no criminal intent was shown, no charges will be filed at this time.
Copyright 2019 WDRB Media. All Rights Reserved.