LOUISVILLE, Ky (WDRB) -- Louisville Metro Police are investigating four shootings that left four people dead and two others hurt.
Police first responded to Rowena Street early Sunday morning. A woman was found dead inside her apartment. LMPD has since arrested a suspect.
Sunday afternoon a person was shot on Clay Street in the Smoketown neighborhood. That person remains in critical condition.
Two people were killed late Sunday night in the Jacobs neighborhood. LMPD was first called to Wheeler Avenue near Carlisle Avenue around 11:30 Sunday night. Two females were found shot inside a vehicle. One of the females was pronounced dead at the scene. The other was taken to the hospital an is expected to recover. Investigators later determined the shooting actually occurred a few blocks away at the corner of Parthenia Avenue and Carlisle Avenue. A man was found dead at the location, according to LMPD.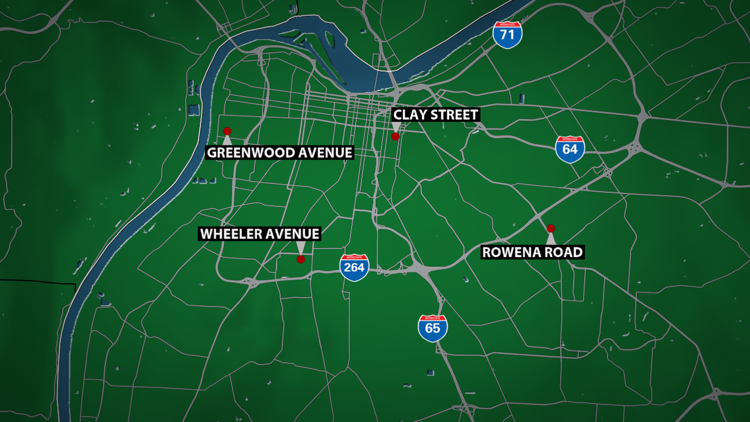 Then around 12:15 Monday morning a man was found dead inside a vehicle at 43rd and Greenwoood Avenue.  
No one has been arrested in connection to the shootings on Clay Street, Wheeler Avenue, or Greenwood Avenue.
Police have not said whether any of these shooting are connected.
These shootings follow a string of violence from the previous weekend when eight people were shot in Louisville in separate incidents within a 24-hour period.
Copyright 2019 WDRB Media. All Rights Reserved.