LOUISVILLE, Ky. (WDRB) -- If your employer or future employer orders you to get a drug test, and you use CBD oil, beware.
If you use the hemp product, you'll likely fail a drug test.
CBD shops like CBD Hemp Oil in Lyndon say they get asked about this all the time. They tell their customers to be honest with their boss and show them the lab certificate of their CBD oil.
Woodie Hippler, who said he deals with arthritis and other aches and pains, is an avid user.
"I was taking way too much ibuprofen, and so I thought I would try it," he said. "And it really did help"
CBD oil has grown in popularity and has worked wonders for people like Hippler.
"But I did do a drug test on myself when I was using full spectrum, and it was a positive for THC," said Hippler, who owns Any Lab Test Now in St. Matthews.
Full spectrum means CBD Oil with no more than 0.3% of THC in the product, which is completely legal. THC is the compound that makes you high.
"It does have a tiny bit of THC, but it doesn't have enough to give you a high, and it's from a hemp plant instead of a marijuana plant," he said. "So it won't get you high, but you do get benefits for it."
CBD oil is used to help with aches and pains, anxiety and falling asleep. Even though THC levels are low in CBD oil, it is enough to pick up on a drug test.
"It will spark a positive," Hippler said. "We've had it here at the lab."
You can buy CBD oil without THC in it, which shouldn't spark a positive drug test, but Hippler said there are concerns, because it's not a regulated product, and there could still be very small traces of THC and therefore could flag a drug test.
"It's a gamble," he said.
So what is a person to do? Are they stuck between a rock and a hard place?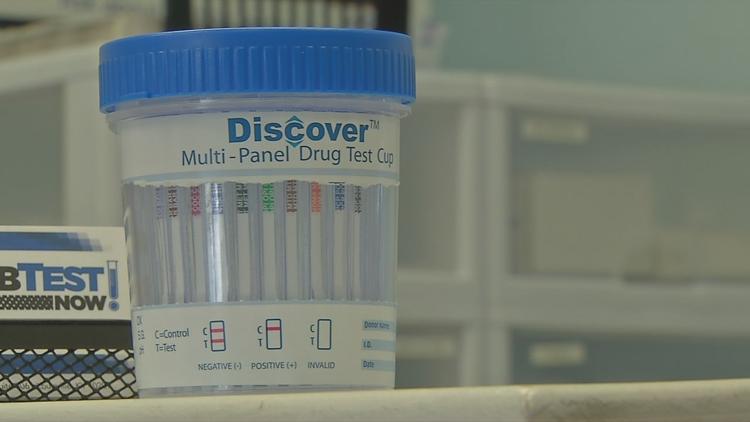 "If they have a lot of pain, they might want to speak to their employer or future employer that they take CBD oil," Hippler said.
Dylan Clark, vice president of CBD Hemp Oil, tells his customers to be forthcoming.
"We always recommend just being open and honest saying, 'Hey, this is what I'm taking,'" he said. "We have our lab results available that prove it is a hemp product and is below the legal limit. So we make those available for customers to take to their representatives.
Copyright 2019 WDRB Media. All Rights Reserved.