LOUISVILLE, Ky., (WDRB) – Shortly after he was pulled over by a Kentucky State Police trooper on Sept. 16 near his home in eastern Kentucky last year, David Gabbard said he wrote a Facebook post sharing his anger at what he felt was an illegal stop.
"Just love being pulled over for no reason lmao. #maybenexttime. #policeharasment (sic)," the post read.
James O'Toole, with Smith & O'Toole & Brooke out of Lexington, is representing Gabbard and Diana Muncy, who live together.
"Mr. Gabbard really didn't know why he was pulled over," O'Toole said. "He was a little frustrated for being stopped for what he thought was not reason. He went home, and like many people do, he posted on Facebook how he felt."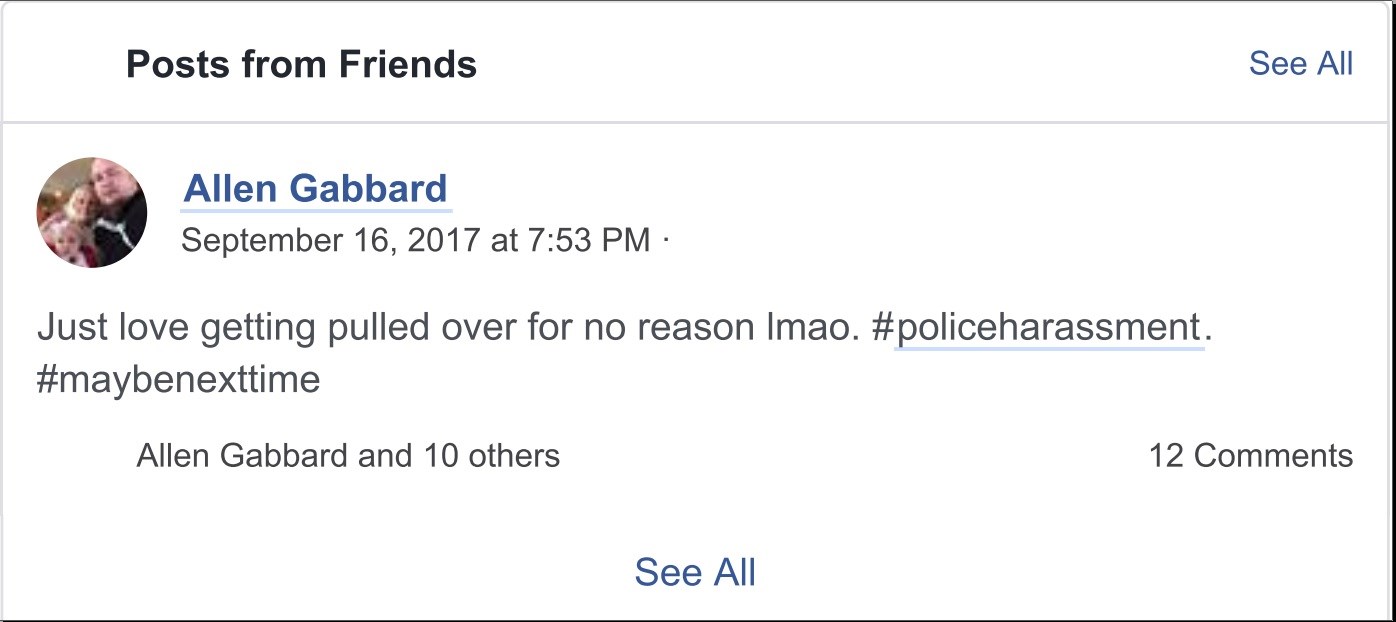 The next day, Gabbard claims in a federal lawsuit, the trooper that pulled him over, Scott Townsley, and two others showed up at his Jackson County home he shared with Muncy, approaching from the front and the perimeter.
O'Toole said the two other troopers passed by a window at the back of the house and saw Muncy inside, who was in a state of undress. When Muncy screamed, the troopers told everyone in the house to come outside.
When Gabbard went out to see why they were there, Muncy began recording on her phone.
"Officer Townsley started mentioning the Facebook post immediately," O'Toole said.
"I did not harass you yesterday," Townsley can be heard saying on the recording, according to the lawsuit, filed in U.S. District Court in London, Kentucky. "I don't care if everybody knew what you meant. I knew what you meant … that's the only thing. I knew what you meant."
The lawsuit claims another trooper then took Muncy's phone and turned it off and "things escalated quickly," with Townsley slapping and pushing Gabbard, kicking his dog and trying to incite a fight.
Gabbard said he did not want to fight with police.
"Trooper Townsley then took off his badge," said O'Toole, "took off his gun, and said, 'Fight me as a man, as  a regular citizen.' And Gabbard still refused to do that."
Muncy called 911 but the dispatcher would not send help because "the police were already present," according to the suit. A transcript of the 911 call is included in the lawsuit.
The 911 transcript says "the supervisor of state police is taking care of this complaint.'
At that point, according to the suit, a trooper noticed video cameras at the front of the home and showed Townsley. The troopers then returned Muncy's phone and left. O'Toole said the cameras on the house were not working at the time.
The plaintiffs' attorney said point of the lawsuit is not about Gabbard's injuries but also freedom of speech and the right to feel safe and secure in your own home.
"We all have the right to speak our mind on Facebook," said O'Toole. We have the rights to our own opinions. We shouldn't have to be afraid of the police coming down on us because we exercise our first amendment rights. And that's exactly what happened. He came there to deliver a message. To deliver a beat down for exercising his first amendment rights.
O'Toole said he does not believe all police officers are bad, but he described the three troopers involved in this case as "three bad apples" that did "serious harm" to his clients.
"The only plausible explanation for the Troopers' presence at the Plaintiff's home was that the Troopers wanted to deliver a message through intimidation, terror and battery," according to the suit.
The suit is seeking unspecified monetary damages and a jury trial. It names Townsley and Troopers Joshua Roaden and Brandon Scalf. 
A spokesman for KSP did not immediately return a message. Attorney David Hoskins, who represents the troopers, said it was too early in the case to comment. 
Copyright 2018 WDRB News. All rights reserved.