NEW ALBANY, Ind. (WDRB) -- The League of Women Voters South Central Indiana hosted a voter forum Thursday night in an effort to bring the community and those seeking elected office together. 
Nearly all candidates running for office in Floyd County showed up to speak and were met by a large audience of voters.  
"As citizens, we have a right to be heard, we have a right to question you, and we have a right to ask what your platform is before you get our vote," said Barb Anderson, president of the League of Women Voters South Central Indiana. "If they're going to be elected to serve those folks, they need to know those folks."
The New Albany mayoral race was a huge focus Thursday, since the person elected will shape the future of the small city. Democratic Incumbent Mayor Jeff Gahan, Republican Mark Seabrook and Independent Dan Coffey all spoke and took questions.
"What you need to know about me is that I'm not an 'I' person. I'm a 'We' person, a 'Team' person, and you're not going to hear 'I'm going to do this,' or 'I'm going to do that,'" Seabrook said as he introduced himself to the crowd. 
The impact of the Sherman Minton Bridge Renewal Project and the possibility of a full bridge closure was a big topic during the event.
"We're planning on rolling out a program of incentives to make sure that we're putting our best foot forward, and the state knows that we mean business," Gahan said while answering a question on the bridge project.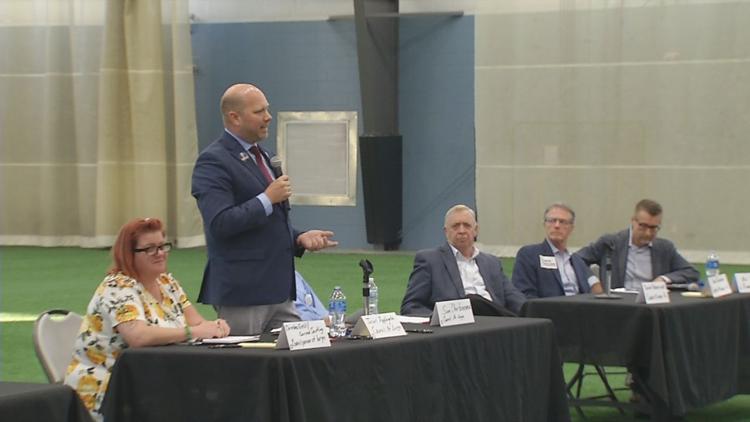 The candidates were also asked how they would address the opioid crisis. 
"We're going to have to really dig deep, because the fact of the matter is if you want people off of this, you're going to have to have some place for them to go," Coffey said.
City council candidates, clerk candidates and others also spoke at the event, giving voters a clear picture of who is on the ballot this November.
"I think if we do more of these, we'll have a stronger voter turnout," Anderson said. "We'll have more educated voters."
There will be another forum for Clark County voters in October. 
Copyright 2019 WDRB Media. All Rights Reserved.