LOUISVILLE, Ky. (WDRB) -- Protesters for months have been demanding the arrests of the Louisville Metro Police officers who fired their weapons during the deadly March 13 raid on Breonna Taylor's apartment. 
But, legally speaking, what would it take to actually press charges against them?
On Friday night, the University of Louisville and District 25 Metro Councilman David Yates hosted a panel of legal experts to answer community members' questions surrounding the high-profile case. Panel members also discussed what Attorney General Daniel Cameron could be weighing behind closed doors as his office investigates the fatal shooting. 
With the case file still under review by Cameron's office and the fates of LMPD Sgt. Jonathan Mattingly and Detectives Myles Cosgrove and Brett Hankison up in the air, many people are asking: What charges could be on the table?
Panel members said potentially perjury as it relates to the no-knock warrant for Taylor's apartment that Jefferson Circuit Judge Mary Shaw signed March 12. 
"Whether or not there is a basis and sufficient evidence to show that the officer, if the officer, knowingly lied about what they knew," said Sam Marcosson, a professor at U of L's Brandeis School of Law.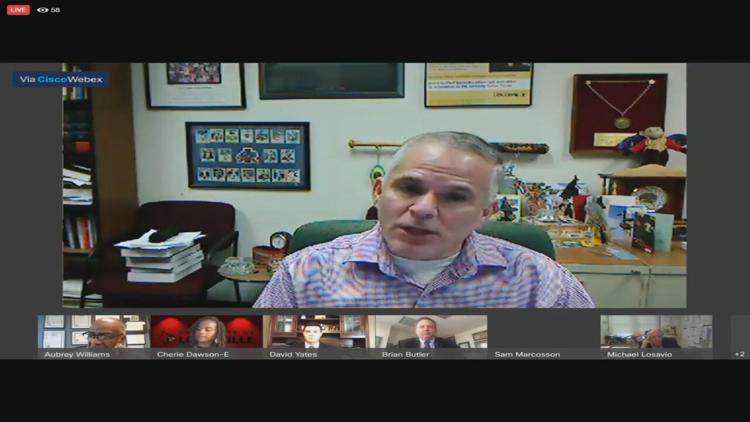 LMPD Detective Joshua Jaynes, who applied for the warrant for Taylor's residence, wrote that a suspected drug dealer, Jamarcus Glover, made "frequent trips" to Taylor's home and had been receiving packages there. Jaynes wrote that he believed Glover may be "keeping narcotics and/or proceeds from the sale of narcotics" at Taylor's apartment.
Police also claimed that a U.S. postal inspector "verified" that Glover was receiving packages at Taylor's home. However, Louisville inspector Tony Gooden said LMPD did not ask his office to conduct that surveillance, but a different law enforcement agency previously did.
Gooden has declined to identify the agency but said the local office concluded no potentially suspicious mail was being sent to Taylor's apartment. 
Nothing illegal was found in the residence. 
RELATED: Louisville postal inspector: No 'packages of interest' at slain EMT Breonna Taylor's home
Another possible charge includes wanton endangerment. Marcosson noted that interim LMPD Chief Robert Schroeder accused Hankison of acting recklessly during the raid when the detective was fired in June. 
"I am alarmed and stunned you used deadly force in this fashion," Schroeder wrote in Hankison's termination letter dated June 19. 
"Your actions displayed an extreme indifference to the value of human life," the chief wrote, referring to Hankison "blindly" firing ten rounds into Taylor's apartment.
However, Marcosson said homicide charges may be difficult. Claiming he thought the apartment was being robbed, Taylor's boyfriend, Kenneth Walker, fired a single shot, which hit Mattingly in the leg, when the officers used a battering ram to break down the door. Police returned fire, striking and killing Taylor in her hallway. 
"I'm quite confident that the officers will raise self-defense," Marcosson said.
The panel also addressed questions about what kinds of obstacles could potentially stand in the way of charges being brought against the officers.
"The great problem we have is racism and prejudice in the court system — be it criminal, be it civil," said Aubrey Williams, a criminal and civil rights attorney.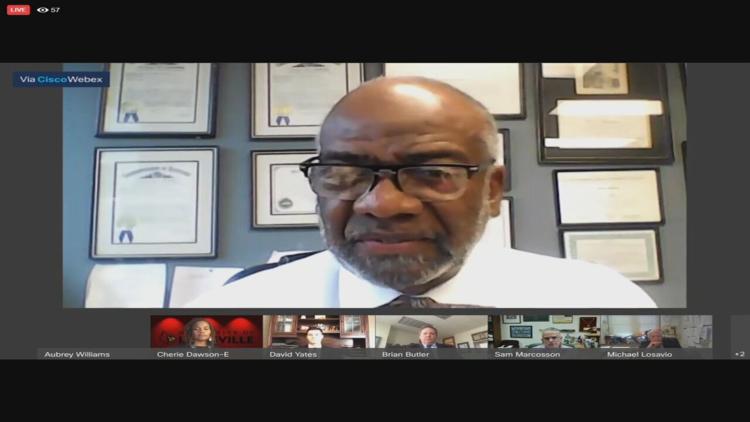 Marcosson also weighed in: "If you're a prosecutor, or, in this case, the attorney general, you're sort of thinking, 'Can I get a conviction?' When you have defendants who a lot of jurors in the jury pool will see as their protector."
Panel members agreed that Cameron is taking a long time to make a final decision. A spokeswoman for Cameron's office said Aug. 6 that Cameron is still awaiting testing and analysis from federal agencies, including a ballistics report from the FBI.
"I assume the attorney general is waiting to get every last piece of evidence and every last person interviewed that he believes may have something to say about what he does here," said Brian Butler, a former assistant U.S. attorney. "But yes, it's taken longer than a typical criminal case."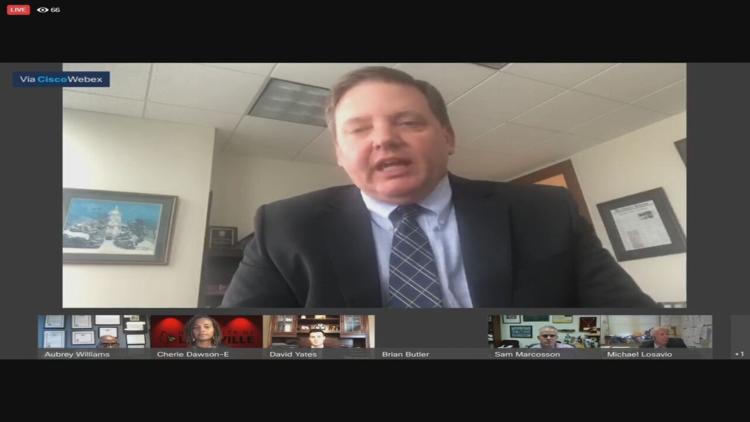 Cameron has not yet provided a timeline for when his office's investigation will be completed. 
"He doesn't want to begin a prosecution that he's going to lose, because that pushes the day of reckoning off," added Michael Losavio, an associate professor of Justice Administration at U of L. "He's in an awkward situation."
Looking ahead, panel members also discussed what needs to change to prevent similar situations in the future.
"One word: deescalation," Marcosson said. "If police officers receive training and are incentivized to deescalate their encounters with people."
"If we want a better police force, we have to pay them," Butler said, "and we have to give them their pensions back." 
Related Stories: 
Copyright 2020 WDRB Media. All Rights Reserved.