LOUISVILLE, Ky. (WDRB) -- Louisville Metro Police Chief Erika Shields said the early closure and barricaded parking lot of a west end Kroger on the night before the Kentucky Derby — a move that faced backlash from residents, business owners and city leaders — was a "miscommunication."
"We have to do a better job as a police department communicating proactively," Shields said Tuesday night as she testified virtually in front of the Metro Government Oversight and Audit Committee.
The parking lot of the Kroger near the intersection of South 26th Street and West Broadway — one of the only major grocery stores in the area — was barricaded off by LMPD on April 30 for "traffic control" in an area the department said had been "significantly impacted" in years past during Derby weekend, department spokesperson Alicia Smiley said at the time. Concrete barriers were also placed at the entrances of the nearby Dino's Food Mart. 
Shields' testimony came after several councilmembers called on her to testify and explain LMPD's decision to place the barricades, which prompted the grocery store to close early. 
She said Kroger typically shuts down early on Derby Eve, but the placement of the concrete barricades caused the store to close earlier than expected.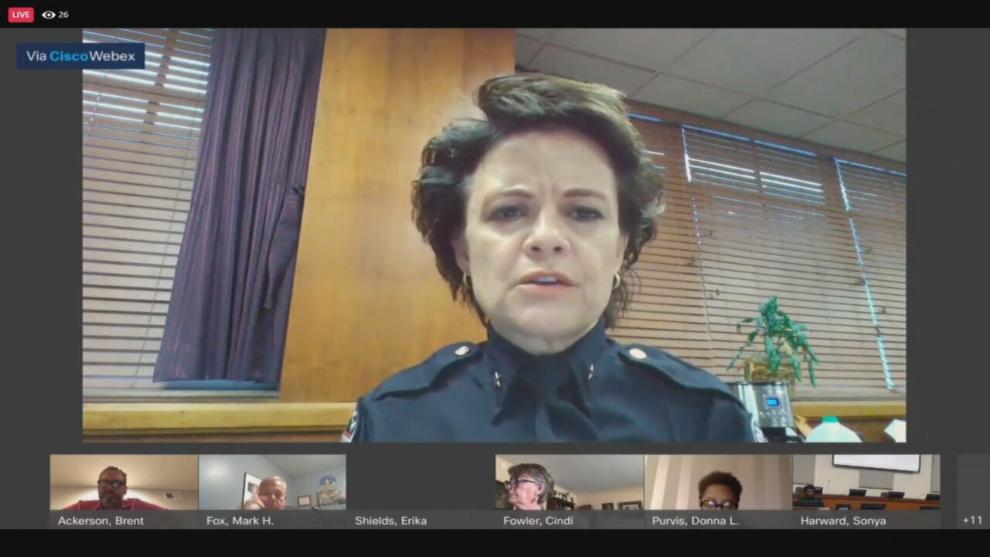 "The Kroger itself has shut down early forever ... for years ... the Kroger parking lot being shut down was a direct result of last year going sideways," Shields said.
Shields said she had talked with patrons prior to the barricades being placed and was trying to be proactive. Ultimately, the negative response from area business owners prompted the decision to remove the barricades at 6 a.m. on Derby Day, LMPD said at the time. The Kroger did close early once again on Derby Day.
"We had no issues Friday night, but the PR from it was awful so we took the barricades out and reverted to what was done last year," Shields said. "I will grant you it did not go as poorly, however we still had gridlock and we had a shooting."
Councilmembers said they had no idea the barriers were being put in place.
"It was a very stressful evening trying to give people answers that kept calling and wanting to know what is going on, when we knew absolutely nothing," said councilwoman Donna Purvis, D-5. "We understand being inconvenienced ... We just want to be made aware when we are going to be inconvenienced."
Shields said it boils down to a miscommunication between LMPD and Metro Public Works.
"What I will say is that I will fully take responsibility, for it was, there was miscommunication and Public Works put down the barricades in advance of when we anticipated having them out," she said.
When asked for comment, Salvador Melendez, a spokesperson for Metro Public Works, told WDRB News he is reviewing the situation.
LMPD will start working on a comprehensive plan next month for next year's Derby.
Related Stories:
Copyright 2021 WDRB Media. All Rights Reserved.