LOUISVILLE, Ky. (WDRB) -- A car was set on fire Saturday night in a parking lot on the Spalding University campus hours after protesters seeking refuge from the city's curfew gathered at a nearby Unitarian church. 
Louisville Metro Police reported the fire at 11:50 p.m. Saturday on Twitter and responded to the intersection of South Fourth and West Breckinridge streets. The person narrating the department's Facebook livestream said fireworks went off inside the vehicle, which was parked in a lot near the intersection of South Third and West Breckinridge streets. A WDRB News reporter at the scene heard loud bangs coming from the car while it was on fire. A Louisville Fire Department crew extinguished the blaze. 
An eyewitness to the fire told a WDRB News reporter that a group of about 10 to 15 people were responsible for starting it. A WDRB News reporter at the scene saw police detain three people as lines of officers were blocking off the area around the burning vehicle.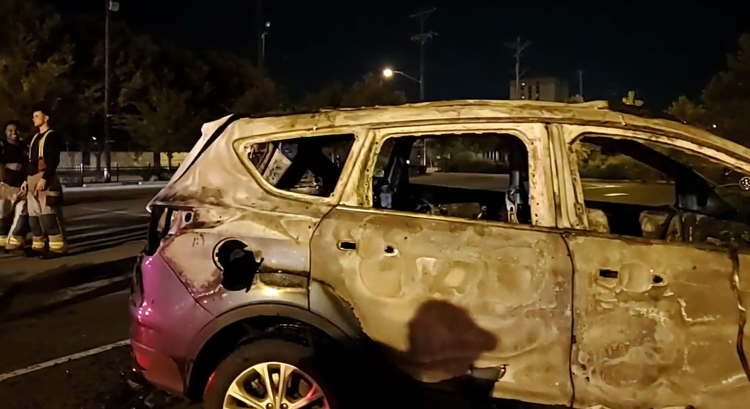 LMPD arrested 25 people overnight, and 22 of those arrested face curfew violation charges, according to LMPD spokesman Dwight Mitchell. Hours before the fire started, LMPD Sgt. Lamont Washington said police had made just six arrests that he said were "mostly curfew related." Only three of the 25 people who were arrested were from out of town.
Police, fire officials, the Bureau of Alcohol, Tobacco, Firearms and Explosives and the FBI are working to identify who started the fire, according to a tweet from the FBI's field office in Louisville. WDRB News reporters at the scene observed damage to windows at Presentation Academy and Spalding University as well as graffiti on buildings in the area. 
In an update to the Spalding University community shared via Twitter on Sunday morning, President Tori Murden McClure said the car that was set on fire was a campus security vehicle. McClure also reported broken windows and glass doors at three university buildings said "the affected areas may be closed" to those on campus Sunday while Spalding's facilities team clean up and repair the damage. 
"While we denounce the dangerous, destructive acts that took place on our campus overnight, we want to make it clear that Spalding continues to support the struggle for equity in the name of social and racial justice," McClure said. "Indeed, the vast majority of the demonstrations that have occurred for the past four months have been peaceful and lawful, and they are raising important awareness about systems of injustice in our country and the suffering that is taking place as a result of them."
Some of our buildings were damaged last night, but @toriposu, the Dean of Students & our Facilities team are working to clean up & repair quickly. We denounce the destructive acts of a few, but we continue to support the struggle for equity in the name of social & racial justice. pic.twitter.com/F0ZFb2Wodx

— Spalding University (@SpaldingU) September 27, 2020
Hundreds of protesters who marched through downtown Louisville to demand justice for Breonna Taylor gathered at First Unitarian Church, located at South Fourth and York streets, as clocks struck 9 p.m. and the city's curfew went into effect. Church leaders have allowed protesters to take shelter from the curfew, which runs until 6:30 a.m., on church property. 
As police responded to the fire, leaders of the church informed protesters that they would be locking the doors to the church. Some demonstrators remained outside the church while police and church leaders discussed how to handle the situation further. 
Around 1:15 a.m. Sunday, Jud Hendrix, the executive director of Interfaith Paths to Peace, told WDRB News' Chad Mills that about 100 people remained inside the church. 
"We're talking with the police officers about saying, 'Can these people go home and not get arrested?'" Hendrix told Mills. "Rightfully so, the police officers are concerned about people that may have had a — done some violent crime, and they're concerned about whether or not they're going to be able to identify those people as they leave."
For reports from the scene Saturday night into Sunday morning, watch livestreams from Mills and Reporter Katrina Helmer below: 
The fire near First Unitarian Church came hours after hundreds of protesters gathered at Jefferson Square Park to protest a grand jury's decision in the Taylor case. A large group of demonstrators peacefully marched through downtown Louisville without confrontation with LMPD before returning to Jefferson Square Park. 
As curfew neared, a woman at Jefferson Square Park used a bullhorn to address a crowd of hundreds gathered. The woman told the crowd that she and others had no intentions of leaving the park and planned to create a perimeter around the area when police arrived to enforce curfew. 
"When that happens, do not retreat," one protest leader said.
As the clock inched closer to 9 p.m., however, protesters began to empty the square, choosing instead to seek shelter from curfew at First Unitarian. 
Once most of the demonstrators had assembled in the First Unitarian parking lot, some expressed frustrations with the group not choosing to stand its ground at Jefferson Square Park, which for 122 consecutive days has been the epicenter of protests ignited by Taylor's death. Some voiced desires to continue marching despite curfew, but the majority of the group remained in the church's parking lot and tried to convince everyone to remain united. 
Some protesters chose to leave the church. 
For another livestream from Mills, who spent the evening walking with protesters:
This story may be updated. 
Copyright 2020 WDRB Media. All Rights Reserved.