LOUISVILLE, Ky. (WDRB) -- LMPD is preparing for massive protests in downtown Louisville on Saturday morning, where both sides of the immigration debate are planning to be.
Chief Steve Conrad spoke Friday evening, calling for peaceful protests. LMPD is asking members of the "Occupy Ice" group to enter from 7th Street and Broadway. Counter-protesters from the "Three Percenters" group are being asked to enter from 7th and Chestnut Streets.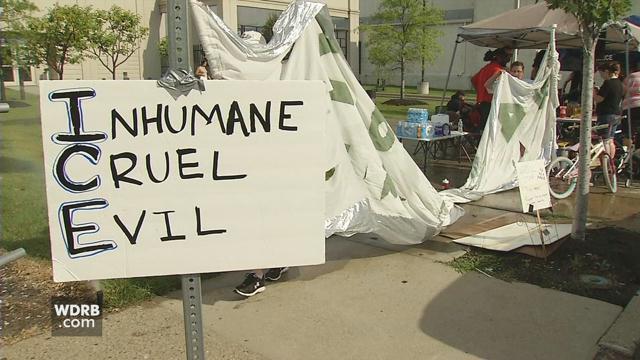 Conrad has additional officers working to deal with potentially large crowds and has canceled off days. LMPD plans to use sand trucks and other barriers like bike racks to keep the crowds under control and separated.
While Conrad said LMPD doesn't know how many people will show up, he said the department is taking these demonstrations seriously.
"I think it is a number of things: First off, it's that people are bringing guns to the event," he said. "The fact that emotions are so hot on this issue and people's opinions are so varied ... I think it's important that we provide a place where people can share their opinions. And hopefully, we can keep them safe in the process."
Several roads in downtown Louisville will be closed Saturday. Sixth, 7th and 8th Streets from Broadway to Muhammed Ali Boulevard will be blocked off from 8 a.m. to noon.
Related Stories:
Copyright 2018 WDRB Media. All rights reserved.