NEW ALBANY, Ind. (WDRB) -- Louisville and southern Indiana continue to brace for flooding, a problem residents say is becoming a dreaded annual tradition for the area.
"It floods all the time," Kelvin Kuhlman said as he scoured his property in Floyd County property that will soon be underwater.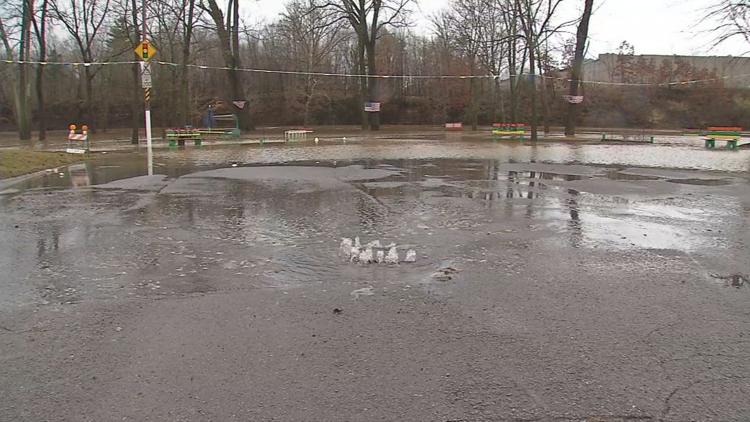 He said many people who live near him on Walnut Creek Drive moved out of the area after flooding last year. Officials closed the dead end road Tuesday. Flooding even caused sewage to overflow in the middle of the street.
With more rain in the forecast, flooding is expected to continue in Kentucky and Indiana. 
In New Albany, the Billy Herman Ballpark on Scribner Drive was completely underwater Tuesday afternoon. The dugouts were submerged, with the water rising to about exactly the height of the outfield walls.
But officials say that's actually what is supposed to happen. 
When waters begin to rise, New Albany's levee system is designed to allow areas like the ballpark to flood and pond the storm water that comes from flooded creeks and rivers.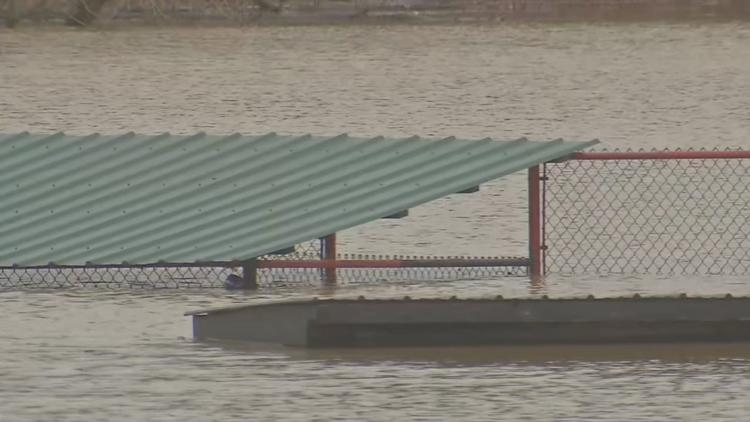 Chris Gardener, the New Albany flood control director, said the idea is to keep storm water from draining into the already rising Ohio River. 
"We're keeping the Ohio River out of the city," Gardener said. "And the storm water that needs to get to the Ohio, we're manually pumping it over the levee system. 
Footage from the WDRB Sky Cam shows that the Ohio River in New Albany is much higher than normal, with water rising as high as the amphitheater. 
The flooding has already caused a few road closures in southern Indiana, and Floyd County officials say more roads are expected to close in the coming days.  
In Louisville, River Road was starting to disappear by Tuesday afternoon, as the Ohio River's waters began to cover the street in many areas. The Third Street ramp remained open, but drivers couldn't continue west on River Road because of the flood waters.
As a result, several people who work in Louisville were forced to take alternate routes on Tuesday. Many drivers were also concerned about traffic problems that fans would face traveling to Louisville's basketball game against Duke at the KFC Yum! Center.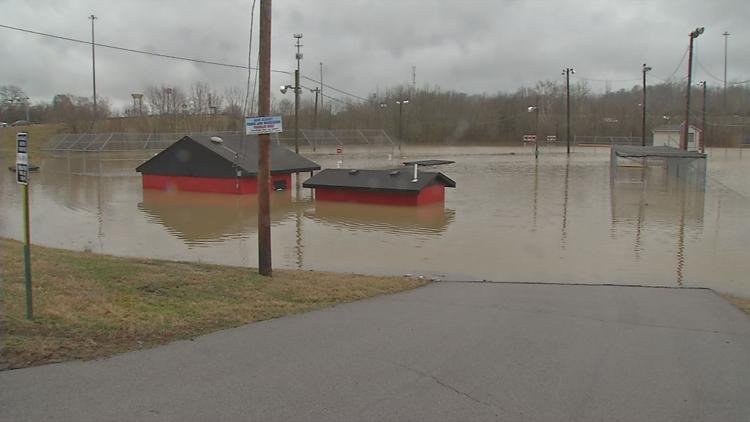 "A lot of roads are going to be blocked off, and you won't know which way to go, different roads are going to be closed," said Austyn Smith, who had to take a different way to work on Tuesday. "So it's a lot of unorganized chaos at times."
It's the organized chaos that comes with flooding that will hopefully be water under the bridge in just a few days.
Copyright 2019 WDRB Media. All Rights Reserved.