LOUISVILLE, Ky. (WDRB) -- Residents of Kentucky and southern Indiana paid their respects Wednesday to those who lost their lives on Sept. 11, 2001.
Children who weren't even alive at the time honored the thousands of people who were killed. Indeed, a whole generation has grown up with no memory of those tragic events 18 years ago.
At Luhr Elementary on Wednesday morning, a silent and solemn ceremony gave students an opportunity to learn about that day but also feel as though they are a part of that history.
"I know that the plane hit in New York, and it crashed," one student said.
"There's a whole generation now that was not here," said Sgt. Justin Ames of the Jeffersonville Fire Department. "But, you know, it shows through their support, through the school systems. You know they always show their support. They're not forgetting. The parents are teaching. The teachers are not letting it go. It gives them appreciation for the service people."
Highview Fire Department brought a large American flag to the school, and with the help of about 60 students, they unfolded it at 8:46 a.m., the time the North Tower of the World Trade Center was hit 18 years ago.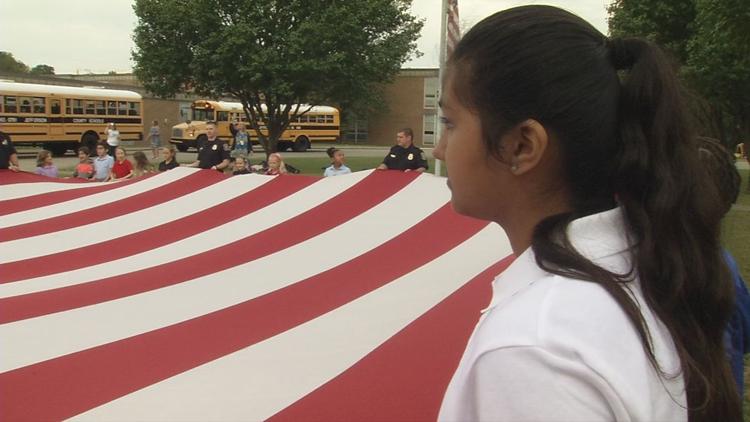 After a moment of silence, the flag was folded back up and unfolded again at 9:03 a.m. signifying the time the second tower was hit.
"They need to understand that we as a country came together that day," said Maj. Shawn Carta of the Highview Fire Department. "Not just fire, but it was police, EMS, and normal common-folk. [It] brings a country together, and we need to remember those folks continuously from here on out and the sacrifices they made that day."
For those who were alive on Sept. 11, it's a time to remember fallen heroes.
"We have 343 brothers who lost their lives in the towers, and that number will never go away," Ames said. "Whenever we see that number on a cash register or a calculator or in our phones, that always reminds us of our brothers who have fallen."
In southern Indiana, Mission BBQ hosted first responders from around the area, giving away free sandwiches as a way to say thank you to those who serve and sacrifice.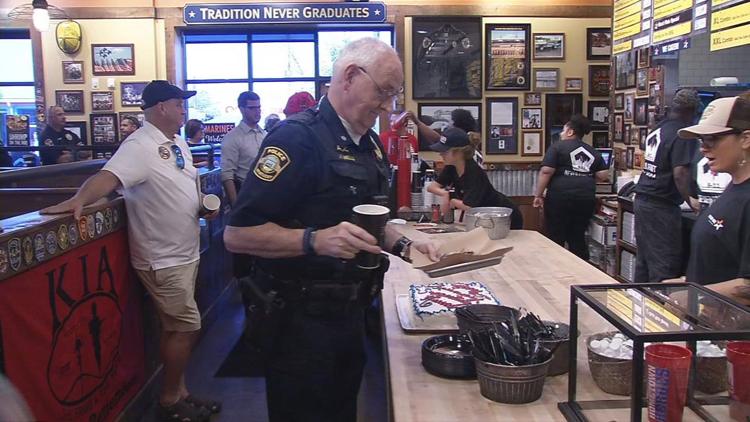 They also had a small ceremony that featured the National Anthem and a ringing of a fire bell to remember the lives lost.
The Mission BBQ in St. Matthews is also feeding first responders. That continues until 9 p.m. Wednesday.
Copyright 2019 WDRB Media. All Rights Reserved.