LOUISVILLE, Ky. (WDRB) -- LMPD Det. Justin Haydock is an assistant coach for the Vipers Baseball Club 8U Black in Louisville.
His son is playing with his teammates this weekend, but Haydock won't be on the field when the boys from Louisville play ball. He was the partner of LMPD Det. Deidre Mengedoht, who is being honored in Washington for National Police Week.
"I knew Dee Dee because her office was right next to my dad's," said Hamilton Haydock, an outfielder for the Vipers.
But the team is doing its part, as well, to honor Mengedoht and other officers who have died. Inside the team's dugout this week is a banner with the names and end-of-watch dates for the fallen heroes.
"For our little guys and our little team, this is a big, big deal for us," said Mike Lauder, head coach of the Vipers and a detective with LMPD"s Missing Persons Unit. "So we chose to honor some LMPD officers who have recently died, some in the line of duty, some not.
"All of these hit near and dear to our hearts."
The names of Mengedoht, Officer Nick Rodman, Sgt. Jon Lesher and Det. Jason Schweitzer are included on the team's banner and in their hearts.
"I am closest with Jason Schweitzer and Jon Lesher, who were both personal friends of mine," Lauder said. "Jason Swhweitzer was a neighbor and a friend."
Haydock is joining a large group of LMPD representatives in Washington, but his son is one of the players wearing arm bands and making bold predictions in honor of the fallen heroes.
"I'm going to get four hits and four outs," Hamilton said.
"I'm going to get a hit for all of the fallen police officers," said Landon Peak, a pitcher on the team. "Well, I'm going to try to."
"It's going to be exciting," added Brady Lauder, an outfielder. "And I am going to get hits for them."
They all promise to swing for the fences, but whether it's a hit, home run or strikeout, Lauder considers it a victory and a chance to stress why winning isn't everything.
"We want to win, but this is what it's about: life lessons for these boys," he said.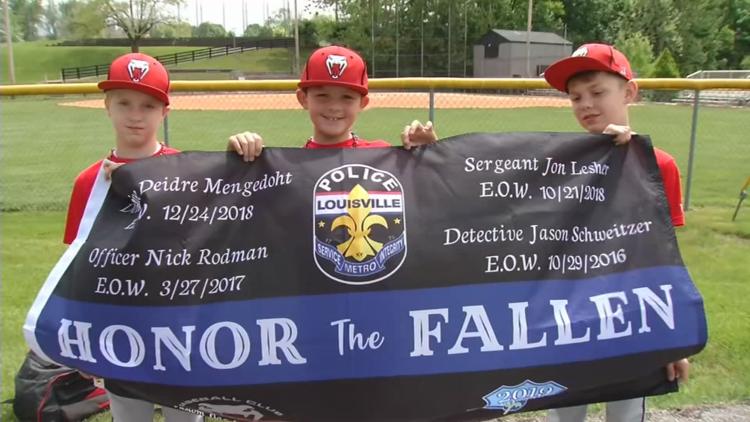 Family members of some of the fallen officers attended Wednesday night's game at Skyview Park in Jeffersontown.
The teams heads into tournament play this weekend. The players will be wearing the armbands and carrying the banner when they take the field.
Meanwhile, Coach Lauder said the team also honors the service of fallen officers across the country. That includes several heroes from the Metro Police Department who have died in the line of duty.
Their names are not on the team's banner, but like the other fallen officers, Peter Grignon, Paul Pegram, Paul Oliver, Larry Lancaster, Brad Kincaid, John Pugh and Steve Wise are all in the hearts of the team and coaches. 
Coach Lauder told WDRB, the four officers on the banner have a personal connection to the team, but he hopes to raise enough money to add the names of the other fallen heroes.
Copyright 2019 WDRB Media. All Rights Reserved.