LOUISVILLE, Ky. (WDRB) -- A deal has ended the driver strike that left disabled passengers waiting on Louisville's para-transit service, but not all drivers came back to work.
In a news release sent Thursday, the Transit Authority of the River City (TARC) said 30 zTrip cab drivers returned to job.
Those cabs back up TARC 3 for riders with special needs when there's no bus available, and over the weekend, zTrip drivers started refusing those runs upset about a new agreement.
"TARC has been working continuously to help resolve the TARC 3 paratransit transition," spokesperson Jeremy Priddy said in a news release. "Although the driver issues encountered are not related to TARC drivers, we've been actively working with our contractors, MV Transportation and Z-Trip to mitigate the issues clients are experiencing."
TARC contracts out its para-transit service for those with intellectual and or physical disabilities who cannot ride a traditional bus. The public transportation company is switching operators from First Transit to MV Transportation.
The striking cab drivers said the new contract with MV Transportation also switched them from a meter rate to an hourly rate on TARC 3 passengers, and it cut their pay in half for those runs.
"I feel sorry for disabled people," former zTrip driver Magid Safir said. "I am very, very sorry for them, some are almost like friends. I'm not making no money hourly. It's not going to work for me."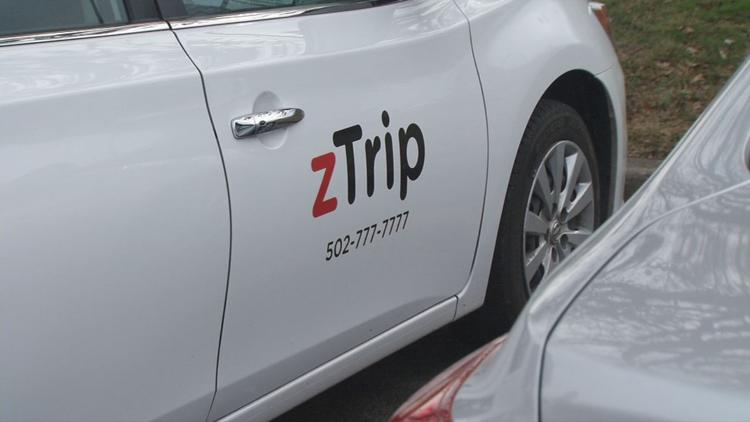 Safir turned in his keys and cab and quit zTrip with plans to possibly start working for ride sharing companies like Uber or Lyft.  He said at least four other drivers also left the taxi company. Drivers who went back to work said zTrip temporarily reduced the price of the cab drivers' vehicle leases to offset the change in pay. The taxi company would not confirm that arrangement.
Safir said it was a three-week deal to see if the finances work.
"I think it's awful," TARC 3 customer Anna Skaggs said. "I think they really did the cab drivers wrong, because I travel a long way."
Skaggs travels from Pleasure Ridge Park in south Louisville to Jeffersontown at least twice a week to work as the part-time administrator for Metropolitan Community Church. The 49-year old can't drive due to Meniere's disease, an inner ear disorder that causes episodes of vertigo.
"TARC 3 is my mode of transportation," Skaggs said. "It has been for the last 15 years, and they almost always send a cab because it's so far. Monday, they told me my ride was scheduled, but I wasn't going to be picked up, because they had no drivers."     
Thursday, Skaggs cab arrived, but she said it was an hour late. 
The fallout from the contract dispute has stranded TARC 3 customers with no rides or late rides since Sunday. TARC and MV Transportation leaders ignored repeated WDRB News' requests for ridership data, specifically completion rates and miss rides since the driver strike began.  
"As we continue our efforts, the number of passengers not serviced continues to improve rapidly," Priddy stated in his news release. "We are confident that through continued planning, hiring and tracking, this number will continue to dramatically decline."
Louisville's Urban league announced a job fair Friday from 10 a.m. to 1 p.m. aimed at hiring more TARC 3 bus drivers to ease the need for taxis. TARC Executive Director Ferdinand Risco said the available driver positions start at $45,000 a year, but those bus drivers will work for MV Transportation. Applicants must be 21 years old and able to pass a physical, background check and drug screen.
"From our perspective, we want to see the dispute worked out," said Louisville Urban League President and CEO Sadiqa Reynolds. "But immediately, people need to get to the doctor. Immediately, people need to be able to get to work or whatever they need these rides for, and so that's our focus."
Reynolds said 40 positions are available. Interested applicants with further questions may email lultarc@lul.org. The Urban League is located at 153 West Broadway.
Related Stories:
Copyright 2020 WDRB Media. All Rights Reserved.