LOUISVILLE, Ky. (WDRB) -- One of Louisville's top high school basketball coaches is still teaching the fundamentals during the COVID-19 pandemic, but he knows it could come back to hurt him down the road.
James Schooler, who coaches at Schooler Prep Academy in the Portland neighborhood, said he likes to build trust in young men and women on and off the basketball court.
"Basketball has been the carrot for us to get the children in, but then we discover all of their other talents that they're capable of doing," he said. "And with this facility, it kind of allows me to navigate them to where their strengths are. And so they feel there's a place they can always come to. And it doesn't always have to be about basketball."
Inside Schooler Prep Academy, the walls are lined with paintings of Louisville native Muhammad Ali, Breonna Taylor and NFL star Jamon Brown. The building and program are just a few miles away from where Schooler grew up in the Shawnee neighborhood. 
After college, Schooler was a personal banker, but his passion for coaching led to a major career change. After several years as an assistant coach, Schooler was hired to lead the Fern Creek High School boys' basketball team.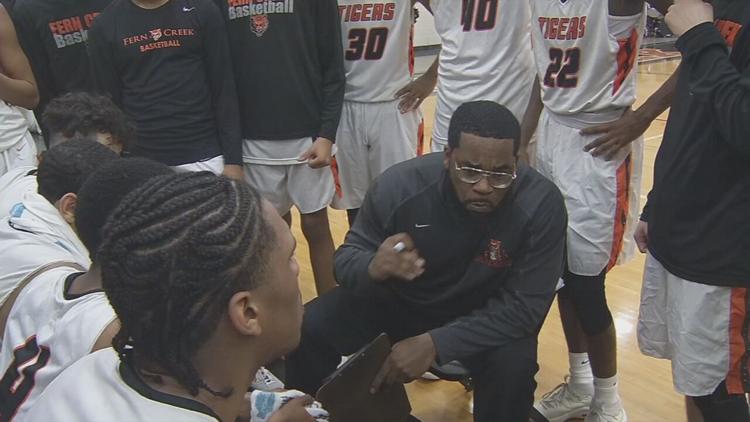 In his first year, Schooler transformed a team with a losing record into a contender. 
"They finished at 19-12, and then after that, I was blessed enough to bring in a class that finished back-to-back regional champions," he said.
Schooler works with dozens of players, but most of them are not part of his program at Fern Creek.
"We've got them from everywhere, from Malae to Trinity to Central," said James Corbett, a longtime assistant coach at Schooler Prep Academy and now the head coach of the Fern Creek girls' basketball team.
The coaches have a passion for working with youth, but admit there are some risks, especially when your players come from different schools.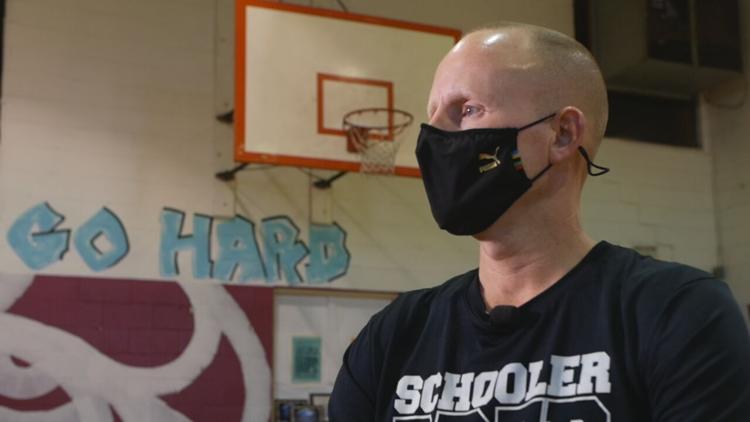 Corbett shared an example.
"We were leading on Trinity a few years ago, and one of the kids that we trained helped lead Trinity to victory," he said. "If somebody is going to beat us, we would rather it be one of the kids we trained."
The Schooler Prep Academy accepts everyone, including players from across the state. On Tuesday, there was even a high school junior who came to Louisville from the Sudan to play basketball for Schooler.
And both Schooler and Corbett teach and coach each player as if they were enrolled at Fern Creek.
"All the coaches in the city and county, they're my friends," Schooler said. "So if their kid is improving, then the state of Kentucky is getting better in basketball, and that's the bigger picture. But I always chuckle when a kid makes a big play, and I know it's something that we worked on. I'm like, 'man, you going to use that move against me?' And they always smile."
Schooler said even if he takes a loss at the hands of one of his Schooler Prep Academy players, it's still a win.
"At the end of the day, I like to be an ambassador for basketball in the state of Kentucky," he said. "I want to compete at a high level, but I want our state to be recognized. And all of these student athletes, we want them to be recruited. It's OK for me as long as we're in the state tournament every year."
Although they're still teaching the fundamentals, there's no game plan during a pandemic. So in addition to basketball, Schooler's academy focuses on several areas, and that includes an art center, music studio, an ACT lab and academic center, which is named in honor of another Louisville icon.
"Our academic classrooms are named after my grandfather, the Honorable Judge Ben Shobe," Schooler said.
The Schooler Prep Academy is open seven days a week from 10 a.m. to 10 p.m., and there's no charge. 
Copyright 2020 WDRB Media. All Rights Reserved.