LOUISVILLE, Ky. (WDRB) -- Inside the Swaminarayan Temple on Bardstown Road in Louisville, there are still shards of shattered glass, bold, black spray-paint and a stunning scene of sacrilege for Hindu worshipers like Raj Patel.
"Regardless of what religion you are, this should not happen," Patel said. "It's just a sign of disrespect to anyone. I moved here from New Jersey, and one of the first things that was a requirement for me was to make sure that there was a Swaminarayan temple -- or a Hindu temple -- for me to be able to go to, to basically worship in peace."
But that peace has been interrupted.
Calling the incident a "cowardly and unacceptable act," Louisville Mayor Greg Fischer said someone broke into the temple near Buechel Bank Road sometime between the end of services on Sunday, Jan. 27 and the morning of Tuesday, Jan. 29. Once inside, Fischer said the vandals wrote "repugnant messages of hate."
Some of the messages proclaimed "Jesus is Lord."
"Jesus is Lord. Which is fine," Patel said. "We were OK with that message."
But he's not OK with everything else. A vandal defaced a poster of his god with paint and sacked part of the sanctuary too. In that most sacred part of the temple, Patel said a vandal tampered with a safe and lodged a knife into a chair.
But most concerning is a profane message directed at those who worship at the temple. Spray-paint on a bulletin board labels them as "foreign b*****s."
The vandalism of Swaminarayan Temple was a cowardly and abhorrent act, a sad reminder of the presence of bigots among us who feel emboldened as of late. I stand with the Hindu community in rejecting this hatred.

— Rep. John Yarmuth (@RepJohnYarmuth) January 30, 2019
"Now, it's not about just a god," Patel said. "It's about a race or someone's skin color."
Wednesday afternoon, Patel joined Fischer, LMPD Chief Steve Conrad and others for a news conference to denounce the vandalism.
"Anytime we see hatred and bigotry in our city, we will stand up and speak against it," Fischer said. "They have only given our community more fuel and more determination to embrace compassion and understand and embrace each other."
Conrad said LMPD officers would be on-hand at the temple Sunday to provide extra security for worshipers.
"The desecration of this temple is heartbreaking," Conrad said. "We've had too many meetings like this in our community."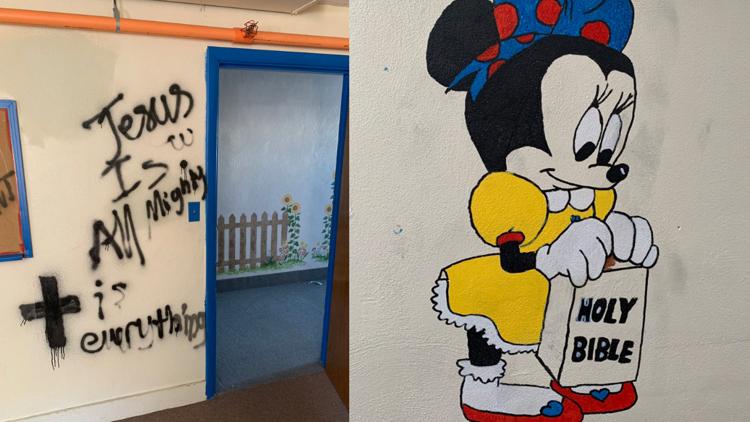 In a statement Wednesday night, Rajan Zed, president of the Universal Society of Hinduism, called on Gov. Matt Bevin to visit the Swaminarayan Temple and meet with the Hindu community of Louisville.
"This issue should be taken seriously and urgently, and efforts should be made to make sure that such incidents did not happen in the future," the statement read.
Fischer said he is inviting the public to join his staff at the temple on Saturday, Feb. 2, from 10 a.m. to 1 p.m. to help clean up the vandalism and "paint away the hate."
"Let's do something about this as a city," Fischer said.
Patel hopes hundreds come to show his congregation Louisville's true identity.
Again, here's a look at some of the vandalism. "Jesus is the only LORD," is spray painted in the temple's entryway along with a crucifix. @WDRBNews pic.twitter.com/fxn2UdA2RY

— Chad K. Mills (@ChadKMills) January 30, 2019
"I've been in Kentucky for about three years now," he said. "Never felt out of place."
In a way, they'll be repairing much more than a vandalized temple.
LMPD doesn't have a suspect, and officers are asking anyone with any info to call the police tipline at 574-LMPD.
Copyright 2019 WDRB Media. All Rights Reserved.