LOUISVILLE, Ky. (WDRB) -- Louisville's Metro Graffiti Team has handled more than 1,000 graffiti cases since last July.
The team was created in April 2017 in order to focus solely on eliminating graffiti in the city. Before the team was started, different departments had to coordinate how to clean it up and who would be responsible.
The team falls under the department of Codes and Regulations. The department's director, Robert Kirchdorfer, said the team is able to work much quicker to clean up graffiti and tags as they pop up.
"To me, it's blight," he said. "I mean, it reflects on our city. So we're out there every day trying to cover it up and eliminate it. That's our goal."
According to city statistics, the number of maintenance cases with graffiti violations have been on the rise for years:
2013: 866
2014: 1,012
2015: 957
2016: 1,023
2017: 1,264
01/01/18-10/11/18: 752
In fiscal year 2018, from July 2017 through June 2018, the graffiti team completed 762 work orders involving graffiti. In the first three months of fiscal year 2019, they knocked out 322 work orders.
Depending on the surface and how many times it has been tagged, the team can either remove the graffiti by using a power washer or cover the graffiti by painting over it. Kirchdorfer said they always hope to remove the graffiti completely whenever possible, and they use environmentally safe chemicals to do so.
In the last year, the team has worked hard to make sure they can blend their painted spots into the original surface color as best as they can.
"We're trying to match paint," Kirchdorfer said. "We're building a little bit of a stash of different colors. Crews are trying to match it up as best as they can."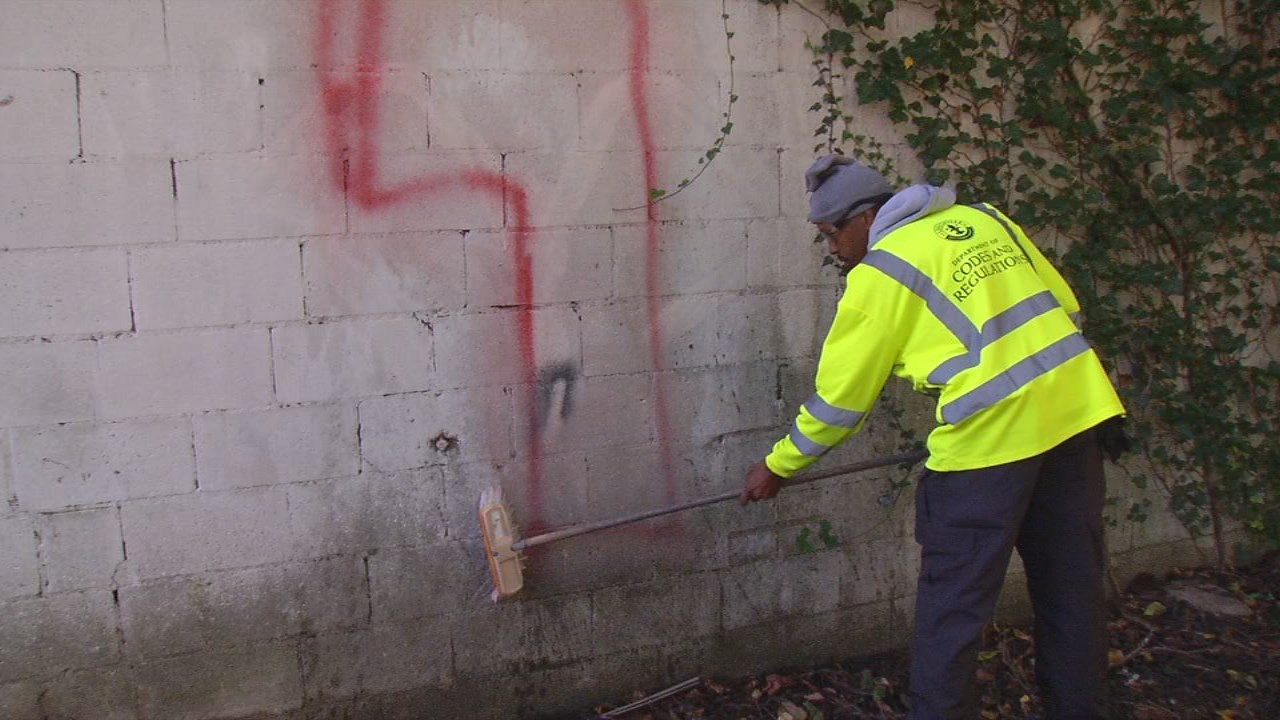 He added that when you see patched that are different colors, it is not from his team. Sometimes, Kirchdorfer said, neighborhood groups will come and paint over graffiti with white paint before the graffiti team gets to it.
"I give them an 'A' for effort to cover it," he said. "It's the same for people that cut grass at a vacant lot on their own. I can't give them permission to do that, but we greatly appreciate all the efforts. It takes the whole city to keep everything clean."
The city is responsible for cleaning up the public right of ways and vacant or abandoned properties. Part of the department's job is also to document graffiti on private property and send the owners notifications.
"On regular properties, we know that people are vandalized," Kirchdorfer said. "But we are an enforcement agency with Codes and Regulations. So if you do get a violation notice from it, we're just making you aware of it."
Kirchdorfer said if a property owner needs more time to comply or needs suggestions on how to cover it up, then call the department and an inspector will help. He added that if hate speech or vulgar images are involved in the graffiti, the city will help private property owners remove that as quickly as possible.
Kirchdorfer said the team has been so successful, they intend to add a second team sometime next year.
If you would like to report any graffiti or vandalism, call Metro 311 and the report will be relayed to the graffiti team.
Related Stories:
Copyright 2018 WDRB Media. All Rights Reserved.