LOUISVILLE, Ky. (WDRB) -- A Louisville pastor fighting an incurable disease received the double lung transplant he desperately needed to help prolong his life. 
"I felt so privileged that I got the call, but I know I was at a turning point," Mike Olsen said. "If I hadn't got the call, I would have died." 
Olsen faced death for five years. In fact, doctors told him in 2014 when he was diagnosed with Ideopathic Pulimary Fibrosis (IPF) that he would likely only survive two more. IPF slowly deteriorates the lungs with scar tissue with no known cause and no cure.  
"It's grueling," said Patti Olsen, Mike's wife, pausing to reflect on their journey.
Olsen never smoked, yet lived life strapped to an oxygen tank. He said he was "starved" for air like he was sucking through a straw with a vice wrapped around his chest. 
"These (new) lungs are so powerful," Olsen said. "I have so much more breath in my lungs as opposed to my diseased lungs, and so it just feels like I haven't felt in years."
Pictures taken inside the operating room show the extent of the damage to Olsen's respiratory system. His lungs appear black, molded or tar-covered. Doctors said that is the scar tissue from IPF.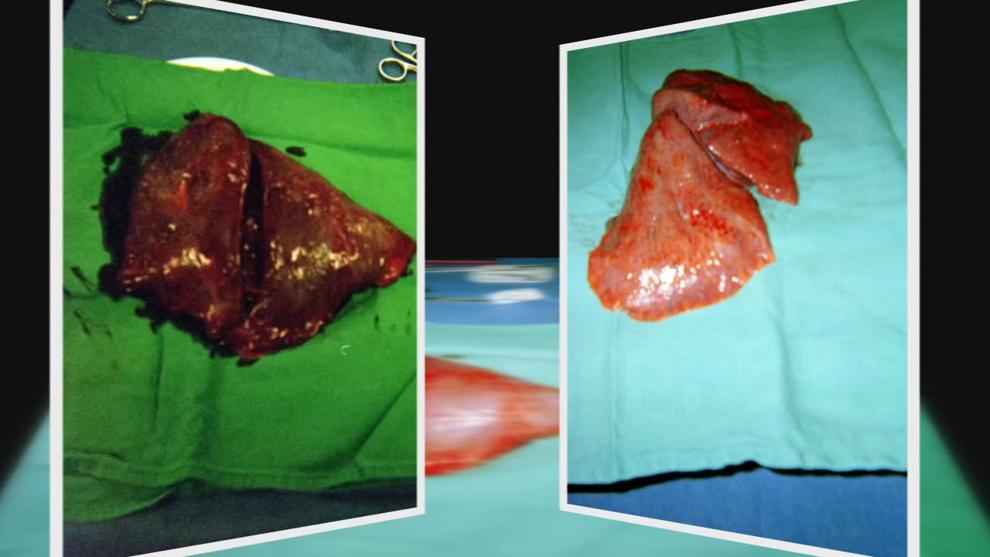 In contrast, pictures of the donor lungs show that they are bright pink, with the promise of a breath of fresh air.
It's a promise that seemed fleeting at first. 
Complications
The call for transplant came on Jan. 7. Olsen appeared cautiously optimistic as he'd endured the false hope of a "dry run" a few years earlier. That's where a patient gets the call for a transplant, but somewhere in testing, pre-surgery doctors find the donor lungs won't work. 
"The surgery went well up until a point, and then it took a turn for the worse," Patti Olsen said in a Facebook Live video as she asked the public to pray. "So his body is not being oxygenated properly by his new lungs."
Mike Olsen ended up in a coma at Jewish Hospital, attached to a ventilator.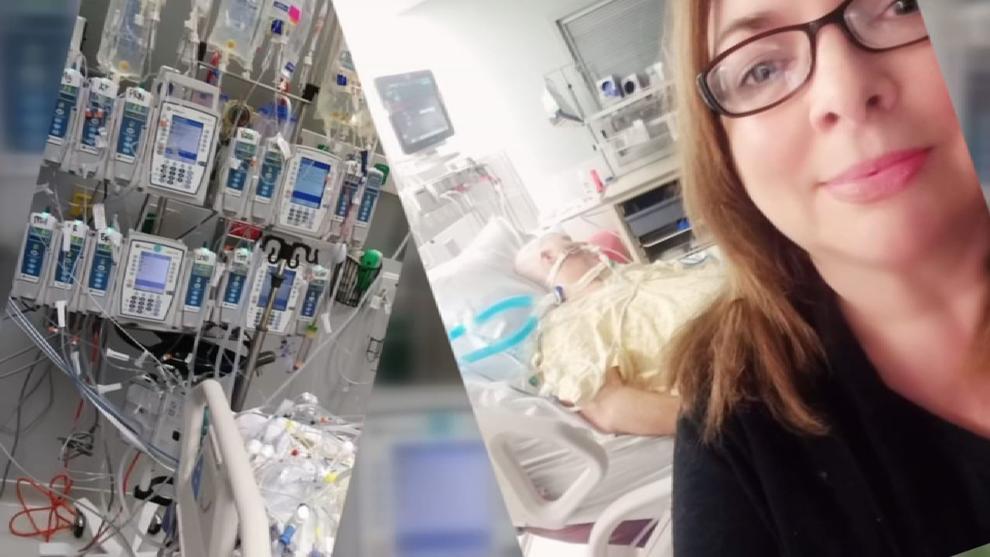 "I could just cry on that," Patti Olsen said. "My tears would would say enough." 
Patti Olsen said it's in this time that she saw just how many people her husband had touched. The pastor of Iona Community Church turned his medical condition into his message. In his five-year wait for a transplant, he became a face for organ donation and IPF awareness. More than 1,000 patients are waiting on some kind of organ transplant in Kentucky, according to organ donor affiliates.
Mike Olsen spread the word to the White House, took the stage with actor Dennis Quaid and was even the subject of a documentary. Any every place he could, he spread the word to find research and funding for a cure.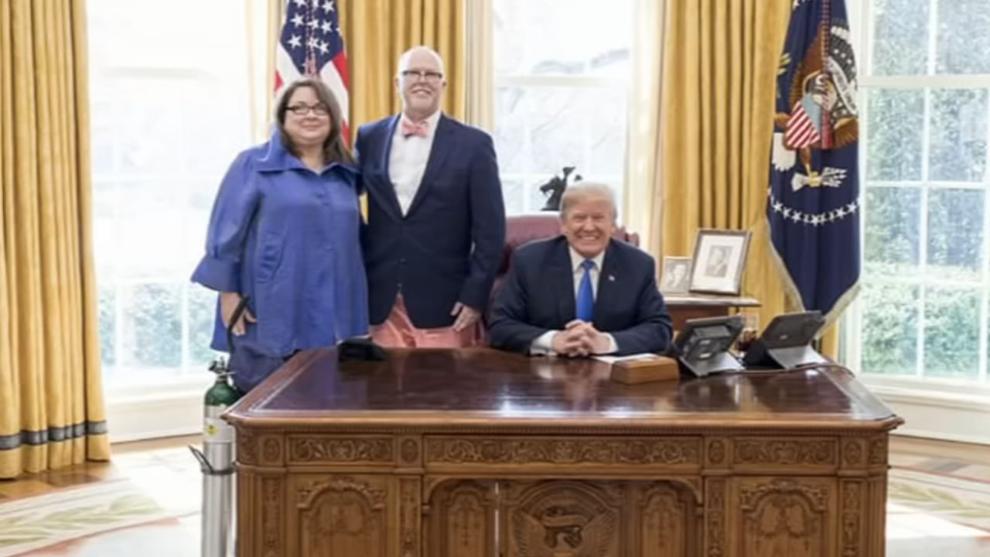 "I could fill a book with the responses from the community," Patti Olsen said, adding that those responses ran the gambit from "cards to prayers to $10 toward our GoFundMe. It kind of resorted my faith in, just, humanity."
IPF kills as many people as breast cancer each year, but no one talks about it until it's someone they love.
It did not take down Mike Olsen. Now, with his new lungs, he said he's found his second wind.
"I am so grateful for my donor," he said.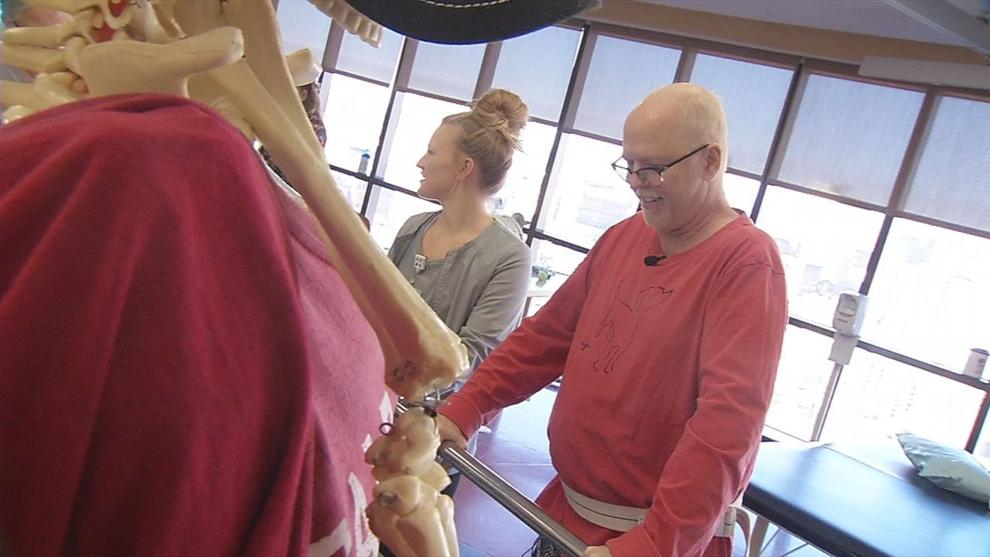 Recovery
Now in therapy, Mike Olsen must learn to breathe again. He gets weak and winded after just a few steps, but every inch is like a mile from where he's been. 
With new lungs, the scar tissue of IPF should no longer afflict him, but transplantation is not a cure.
"Every breath risks infection, and the lungs are very fragile," said Mary Bobbitt, RN, the Jewish Hospital lung transport coordinator. "I just know the average lung transplant surviveability is five years." 
Mike Olsen must adjust to a new reality of living life behind a mask to avoid air-born illnesses. He can no longer eat common everyday foods like blue cheese or leftovers to steer clear of bacteria. In fact, upon his release from the hospital, he couldn't even go home. Leaky gutters created a problem with mold, so he's staying at an aAirbnb in New Albany until contractors complete the fix. 
"The only thing I have to worry about is rejection of those new lungs," Mike Olsen said. "Some people live five years more. Some people live 10 or 15."
Whatever time he has left, he said he will spend it making every breath count. 
"Just because I'm on the other side, and I'm transplanted, I'll never forget," he said. "I'll keep doing what I can to bring awareness until IPF is something everyone knows about. We need to find a cure."
Olsen said he plans to launch the Mike Olsen Foundation to help families in Kentucky with counseling and resources battling IPF. 
Copyright 2019 WDRB Media. All Rights Reserved.