LOUISVILLE, Ky. (WDRB) -- A Louisville resident is paving the way for women, simply by the way she flies down the pavement.
Benitta Russell will become the first woman ever inducted into the Kentucky Motorsports Hall of Fame in a few weeks. 
It all started back in the early 1980s at the Ohio Valley Dragway. Russell's son was supposed to race, but when he found it would be against a woman, he balked.
"He said, 'I'm not gonna race against her!'" Russell laughs. "And so I got in there, nervous ... nervous as can be."
Russell won — and kept on winning — with the former family car: a 1966 Mustang. But she decided its green color had to go to make way for "Tickle Pink."
A wood block is still attached to the gas pedal Russell couldn't reach.
But being short doesn't mean you can't win races. Russell has the trophies to prove she's reached the finish line first over and over again in a car that held a captive audience. 
"Some of the guys loved it," she said. "They would come up and say, 'I love that color.'"
Tickle Pink remains in pristine condition, still fit for the track. In fact, Russell took WDRB News' Scott Reynolds along for a ride in the neighborhood.
"It sounds like a million bucks!" Reynolds said. "You probably wouldn't sell it for that."
"I forgot what it sounds like, to tell you the truth!" Russell replied.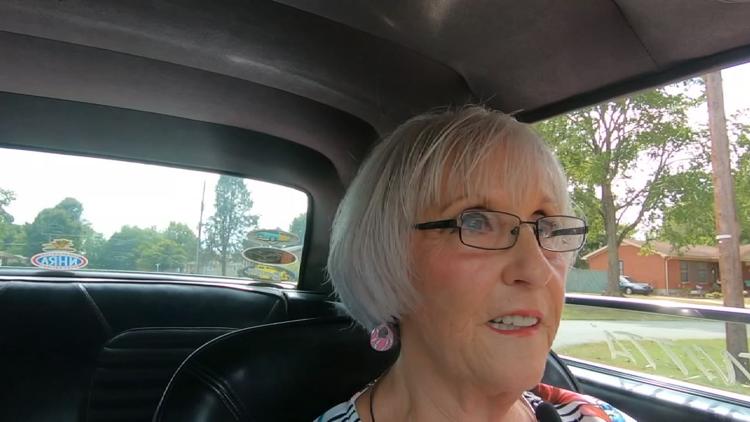 "How about the smell of that fuel?" Reynolds said. "Does that almost put you back on the track?"
"Oh my gosh, we'd go to Ohio Valley, and I'd get high on the rubber on it," Russell replied. 
Russell was the most successful among a group of women drag racers back then. That group included her sister.
"I beat her, and I hated that trophy," Russell said.
But Russell said she loved racing in a mostly men's sport.
"They treated us nice," she said. "They treated us like one of the boys. I never got no static from none of them."
Now, she'll be featured among the best of them in the Hall of Fame.
"Well I thought, 'I'm not gonna get in there. It's all men, and it's an all-men magazine,'" she said. "When the gentleman came by and told me, I was just lost for words. I couldn't believe it!"
Occasionally Russell takes Tickle Pink for a drive back to Ohio Valley to see the young drivers in action.
"We see some of the new ones, and they love meeting me," she said. "They'll come up and shake my hand and say, 'Congratulations!' and 'Yeah! I remember seeing that car when I was a kid!"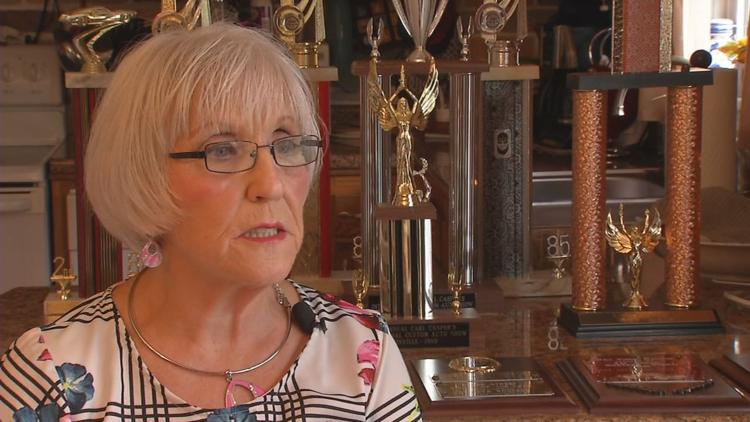 Russell hasn't forgotten either.
"It brings back memories when you get in and start driving it!" she said.
And she's glad she's kept her wheels.
"It's not a guy's sport," she said. "It's girls too. Get in that car and do it!"
Russell will take her spot in the Kentucky Motorsports Hall of Fame alongside legends such as NASCAR's Darrell Waltrip and Indy 500 winner Danny Sullivan.
Copyright 2019 WDRB Media. All Rights Reserved.