LOUISVILLE, Ky. (WDRB) -- The new signs are going up. In a week, you will no longer be allowed to smoke anywhere at the Robley Rex VA Medical Center in Louisville.
Every VA across the country is going smoke- and vapor-free starting Oct. 1.
"We really want to create a healthy environment," said Dr. Patti Weiter, lead tobacco cessation clinician at the VA Medical Center. "If anyone is coming in to access their health care, we don't want to be exposing them to things that could be harmful to them."
Weiter helps veterans kick the habit, and she said the smoking ban will cover every inch of the campus: insides, outside, in the parking lots and in your cars.
"That will include everything from cigarettes, cigars, e-cigarettes, pipe smoke ... anything like that that would create a smoke," she said. "It will also include our eight outpatient clinics in the community."
And it applies to everyone: veterans, visitors and employees.
"So that when they come here, they are not exposed to things that could be harmful to them," Weiter said.
If people do not comply, they could be fined $50 plus $30 in court costs. The center put up signs and mailed 46,000 letters, letting people know about the change.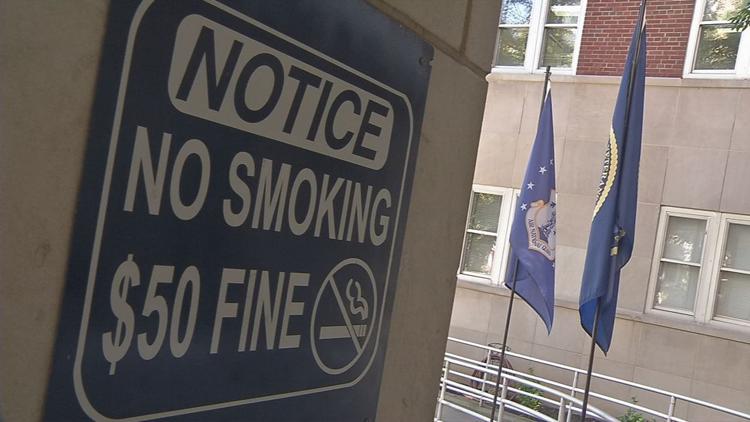 Weiter said it's already encouraging veterans to quit.
"We've been able to get them connected to services and get started on their plan," she said.
The VA can help put together plans, including everything from nicotine patches to personalized text support.
"Given in Kentucky that smoking is the No. 1 health behavior that affects disability for folks, we really want to support a veteran that may be interested in quitting so that we can help them live more healthy years," Weiter said.
If you would like to quit smoking, see more information below:
Related Stories:
Copyright 2019 WDRB Media. All Rights Reserved.