LOUISVILLE, Ky. (WDRB) -- A Louisville teacher has won a tropical vacation in honor of National Teacher Appreciation Week. He earned it thanks to some wacky videos and the support of students, parents and staff at his elementary school.
In class at Lincoln Performing Arts Elementary, Jordan Price is known for giving it his all. "If anyone asks you what I tell them, it's 'you have to be a risk taker,' and I say that every day," said Price, who's a drama educator at the school.
So, when he saw a Facebook post for an international competition for teachers, he followed his own advice. "I had to dress in drag numerous times. I had mustard dumped on my head. I cracked eggs over my head, ice bucket challenge, one man flash mob, dress as a bronie, which is evidently a guy who loves my little pony," Price said.
He did it all to get votes. "This really was a massive, massive campaign. It was across the whole country, New York, Florida, Louisville, Canada," said Andy Stuart, President and CEO of Norwegian Cruise Line.
Price was nominated by a parent for Norwegian Cruise Line's competition to find the teachers who bring the most joy to their classroom. It was in honor of the first sail of its new ship, Norwegian Joy. "It really was a great opportunity with the coincidence of the timing of Teacher Appreciation Week to really do something meaningful," Stuart said.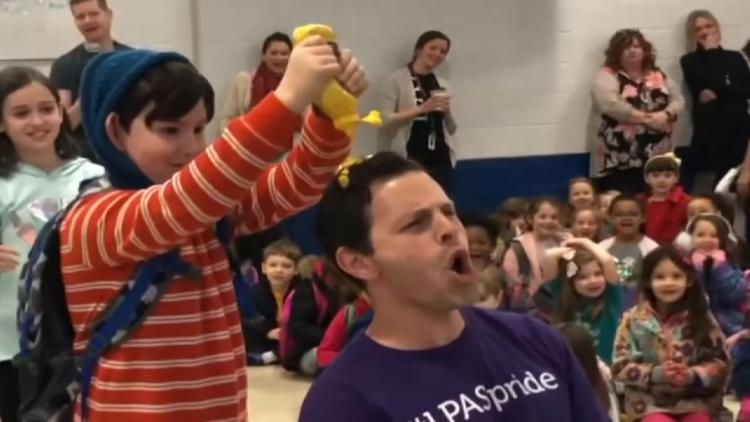 "I had to get attention. So, I decided to do a Dare to Share challenge," Price said.
Price posted about 40 videos on Facebook and YouTube, both giving and accepting challenges.
"It was crazy because by the end of the competition, I would post a video and within hours, there would be like a thousand views on it, and I'm like, 'man, I'm semi-viral'," Price said.
"Jordan's kids were so excited about him and everything that he does that they were really pushing him to do all sorts of weird and wonderful things," Stuart said.
Norwegian was honoring the top 30 teachers with the most votes. The top three teachers would get money for their school. "If I got a cruise out of it, great, if we got some money out of it, amazing, but in the end, I knew I put my best effort forward and try with everything I could to make it happen," Price said.
Out of 46,000 nominees and 1.4 million votes, Price earned the 16th spot, which took him to an elaborate award ceremony in Seattle and later this year, a cruise. "That's the plan is to go sail the Hawaiian islands," Price said.
Giving credit to our teachers. "I think it's the best job in the world, and I love doing it," Price said.
As Mr. Price says, with big risk, comes big reward. "I think that's why this happened is the support from this Lincoln community," he said.
For a job well done.
Jason Seaman was among the top three grand prize winners. He's the teacher who intervened during a school shooting last year at a Noblesville, Indiana middle school.
Norwegian said this campaign was so successful, the company plans to host more.
Copyright 2019 WDRB News. All rights reserved.