LOUISVILLE, Ky. (WDRB)-- On a recent Sunday morning, five-year-old Reed Francis and his family were in the kitchen with Emily Wheeler, a custom cake baker. The two became connected a year ago, when Wheeler made the cake for Reed's fifth birthday.
"It was super cool," said Reed.
This was no ordinary dessert. This cake celebrated a major milestone for a kid who's been through a lot.
"Reed was diagnosed with metastatic Ewing sarcoma in December of 2015," said Reed's mom, Candace Allen Francis.
He was just three years old and diagnosed with bone cancer that spread to his lung and spine.
"So in the span of just a couple of hours, we went from thinking he had just fallen to it could be cancer," said Chris Francis, Reed's dad.
Reed went through surgery, 14 cycles of chemotherapy, radiation and eventually a bone marrow transplant. He's now been disease free for 16 months. To celebrate his fifth birthday, his parents threw him a big party enlisting the help of "Icing Smiles," a national non-profit that provides custom cakes for families of critically ill kids.
"We just filled out an application and then they have volunteers that match cake makers, so we were matched with Emily," said Candace.
Wheeler is a "sugar angel," one of thousands of bakers nationwide who donate their time and talent. "After the first one I did, I was hooked. That was five years ago," said Wheeler.
When she gets a call to action from "Icing Smiles" she jumps at the chance to give back. "I start sketching out ideas and then make it come to fruition and it's awesome," said Wheeler.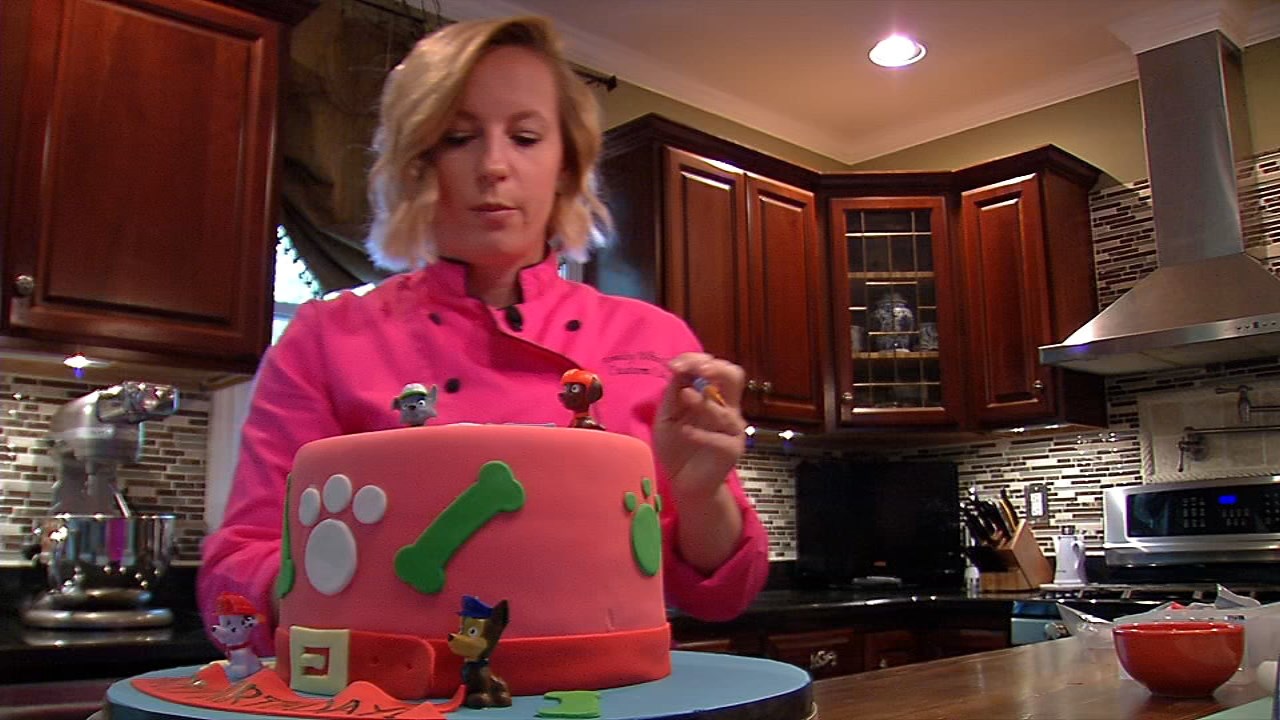 The bigger the better for Wheeler who usually has very little to go off of, often just a favorite character or team.
"I was very nervous on my first delivery. How would it go, how would they react, is this what they wanted?" she said.
But those feelings of uncertainty are replaced by joy when she makes the sweet delivery.
"I've had mothers cry on my shoulder thanking me so much because they haven't seen their child laugh or smile that much in months," said Wheeler.
For families like the Francises, long after the last piece is gone, the memory lingers.
"When she came to the door and had this cake it was incredible. I could not believe how much love and heart she had obviously put in to this cake for free. For nothing," said Candace.
The cakes are often sweet reminders of a typical childhood experience often stolen by illness.
"Something that you wouldn't have otherwise or just an extra bit of celebration and after you've been through so much to have something nice like that not just for the child, but for the whole family." Candace said.
For more information on how to become a "sugar angel" or to receive an icing smile, click here.
Copyright 2018 WDRB News. All rights reserved.