LOUISVILLE, Ky. (WDRB) -- A judge on Friday declined a motion to dismiss charges against Cane Madden, at least for now.
Madden, 30, is accused of raping and fracturing the skull of an 8-year-old girl in an August attack.
Madden's attorney, Steven Harris had filed a motion asking Jefferson Circuit Court Judge Annie O'Connell to dismiss the charges against Madden because he has already been found too mentally ill to stand trial in several previous criminal cases.
During the short hearing, Harris told the judge he was ready to argue his motion on Friday, pointing out that Madden -- who sat quietly beside him -- has already been jailed for more than two months.
But prosecutors asked the judge to delay any hearing until they can argue that the case is not allowed to be dismissed until Madden has another mental competency evaluation, since a person's mental ability can change over time.
O'Connell set a hearing for Jan. 17.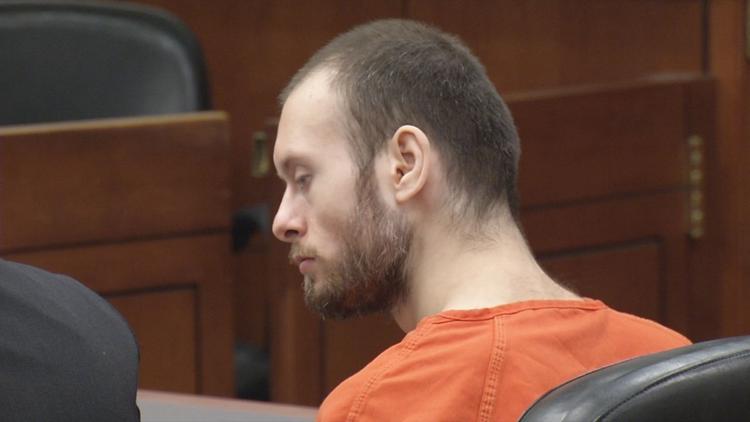 In a separate sexual assault case against Madden in February, O'Connell ruled Madden was incompetent and was "unlikely to regain competency in the foreseeable future."
Under Kentucky law, Harris argued in a motion, "foreseeable future" is defined as no more than 360 days, meaning that at the time of the alleged Aug. 9 sexual assault of the child, Madden would still legally be considered mentally incompetent.
Assistant Commonwealth's Attorney Christie Foster argued in a response that the judge cannot dismiss the charges without an agreement from prosecutors; and she said the new indictment in a separate alleged crime and requires another evaluation.
And, after that evaluation, O'Connell would again be required to hear evidence and decide whether Madden is competent, "regardless of how redundant the defendant believes it to be," Foster wrote.
After the hearing, Assistant Commonwealth's Attorney Jeff Cooke, a spokesman for the office said, "It's our belief the court can't dismiss the indictment without our agreement."
Commonwealth's Attorney Tom Wine sat in the courtroom watching the high-profile case.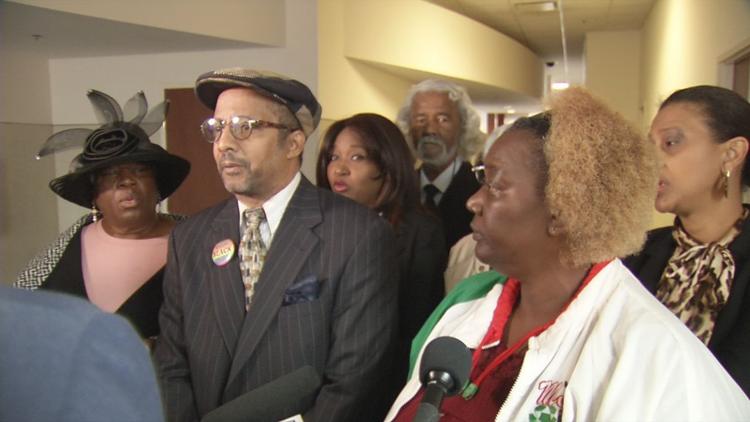 Several people from the California neighborhood where Madden allegedly committed some of his crimes, including the rape of the child, were also in the courtroom Friday.
"It's everybody's child. It's everybody's child. If he's released, it's everybody's child. Nobody has a pass, because he wanders, he's fragile, and he needs to be placed, where you can help fragile people," said Yolanda Walker, the President of the California Neighborhood Leadership Council.
While the motion to dismiss is not unexpected, it is a potential nightmare for prosecutors, legislators and state mental health officials who are hurriedly trying to fix a problem with the law that has allowed Madden and numerous other dangerous but mentally ill defendants to walk free.
Under current law, Kentucky's criteria for involuntary hospitalization says, in part, people can only be held against their will if they will benefit from treatment, even if they are mentally ill and considered dangerous.
WDRB News highlighted the law's shortcomings after Madden was arrested in August, pointing out that while he has been arrested multiple times over the years, he continues to be released from jail and hospitals.
Prosecutors urged lawmakers to read the story during last month's meeting of the interim judiciary committee.
Sen. Danny Carroll called the story an "Oh my God!" moment and said the revolving door of violent criminal cases involving Madden is "the most blatant example" of a failure in the justice system he has ever seen.
The problem is that one set of laws determines whether someone is competent to stand trial, while another addresses whether that person can be involuntarily hospitalized from mental health treatment.
Judges in Kentucky must decide, based on psychiatric evaluations, whether a defendant can understand the charges against him and participate in his defense. If not, the defendant's charges are dropped and prosecutors then file paperwork to have the defendant hospitalized for treatment.
However, there are three separate criteria determining whether a mentally ill patient can be involuntarily hospitalized:
•   The person must be deemed a danger to himself or others
•   The person is expected to benefit from treatment
•   Hospitalization is the least restrictive treatment available
If any one of those criteria is not met, at any time during treatment, the hospital is required by law to release the person. Because of that law, prosecutors say some defendants, like Madden, are sometimes released within hours and without receiving proper mental help.
It is not publicly known which criteria Madden hasn't met when he's been released in the past.
It was O'Connell who on Feb. 9 found Madden incompetent to stand trial in a violent sexual assault case where he was accused of biting the woman's face, "removing a large chunk," according to his arrest report.
After he was released, Madden was arrested again in May for breaking into a business. But a judge dismissed that case because of the same competency concerns and recommended Madden be hospitalized instead.
And, again, he was quickly released, starting the cycle anew. Less than 24 hours later, Madden was accused in the rape and assault of the 8-year-old girl, who was playing in her backyard in the 1700 block of Hale Avenue, according to her grandparents.  
In the motion to dismiss, Madden's attorney cites several criminal cases going back to 2015 that were dismissed because of competency issues.
Among Madden's arrests in past years include charges for threatening to kill a child, hitting a nurse at Metro Corrections and biting another at U of L Hospital. He is currently charged with rape, assault and robbery, and lodged in Metro Corrections on a $1 million bond.
Previous stories:
Copyright 2019 WDRB News. All rights reserved.