CLARKSVILLE, Ind. (WDRB) -- Indiana State Police said a man has been arrested after a crash Monday that involved a Jeffersonville Police officer.
According to a news release, Indiana State Police went to a crash around 7 p.m. in the area of Eastern Boulevard and US 31 in Clarksville to investigate a crash. Officials say a Jeffersonville Police cruiser had been "T-boned" by a white Chevrolet pickup truck. Police say the driver of the pickup, 53-year-old Gary Crowe Jr., and the officer were taken to the hospital to be treated for non-life-threatening injuries.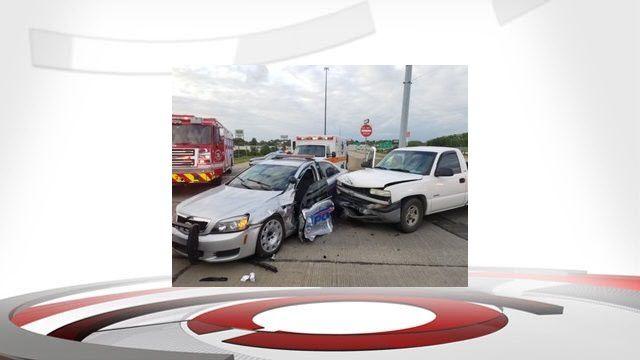 Authorities say Crowe was taken to a hospital in Louisville for examination and to have blood drawn for possible operating while intoxicated charges. According to investigators, Crowe fled once he arrived at the hospital. He was later arrested by St. Matthews Police and taken to University of Louisville Hospital to have the testing completed.
A warrant for Crowe was filed in Indiana, and police in St. Matthews arrested him on that warrant.
Crowe is charged with operating while intoxicated causing bodily injury, obstruction of justice, operating while intoxicated-endangerment and reckless driving.
Officials say the Jeffersonville Police officer has been released from the hospital and is recovering at home.
The investigation into the crash is ongoing.
Copyright 2019 WDRB Media. All Rights Reserved.