LOUISVILLE, Ky. (WDRB) -- Senate Majority Leader Mitch McConnell is running for reelection in 2020.
The 77-year-old is running for a seventh term in the U.S. Senate. The Kentucky Republican launched his campaign on social media on Wednesday with a video that lists his accomplishments. The focus of much of the three-minute video is McConnell's push for conservatives on the U.S. Supreme Court.
But what has many talking about the TeamMitch.com website is a jab at Democrats hidden in the form of an error message. When supporters go to a specific url, they get a blue image of President Obama and Vice President Joe Biden with then Supreme Court nominee Merrick Garland. A message on the photo reads, "Oops This Page Doesn't Exist, but just in case, go donate and make sure it doesn't come back. Donate. Or you can head back home."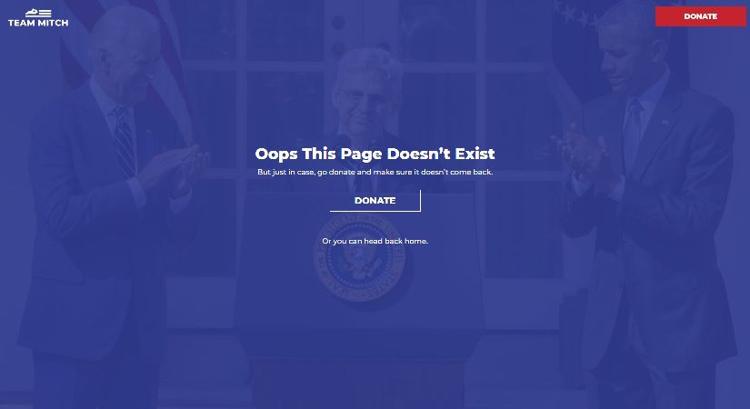 The video that announces McConnell's campaign begins with a flash back to 2016, when President Barack Obama asked for an "up or down vote" on high court nominee Garland. It is followed with news clips of McConnell saying there should be no vote until there is a new president. The U.S. Senate never voted on Garland, which allowed President Donald Trump to fill the vacant seat by nominating Neil Gorsuch. Since then, Brett Kavanaugh was also approved as an associate justice by the Senate.
Today, we're officially launching our re-election campaign. Check out our first video below and visit our new website here: https://t.co/8WMUul8jbX #KYSen pic.twitter.com/3EIanK8S4c

— Team Mitch (@Team_Mitch) April 17, 2019
The highlights of the video closely align McConnell with Trump. There is a clip of the president calling McConnell a "rock-ribbed Kentucky leader" and "one of the most powerful men in the world." Another clip of the president says, "I know tough people. He's tough. He's Kentucky tough."
The TeamMitch.com website says "McConnell has led the fight for our conservative values in the Senate. Confirming two Supreme Court Justices, cutting government regulations, passing historic middle-class tax cuts, Mitch has delivered on President Trump's promise to Make America Great Again."
McConnell touts his push to legalize hemp as a way to help farmers, unemployment numbers, the economy and his role in getting Trump's tax plan passed in the Senate.
So far, no Democrats have announced they will challenge McConnell in the 2020 general election.
Copyright 2019 WDRB Media. All Rights Reserved.