LOUISVILLE, Ky. (WDRB) -- Following a private tour of the massive McKesson vaccine distribution center in Bullitt County, Kentucky U.S. Sen. Mitch McConnell applauded the state's role in getting out the life-saving coronavirus vaccines.
In an interview with WDRB News, McConnell said he is trying to emphasize the importance of everyone getting the vaccine.
"The commonwealth is right in the middle of this distribution process, saving all these lives," he told reporters. "There are actually certain segments of our population that seem to be reluctant to get the vaccine. I think we need to push back against that."
McConnell said the vaccine is the quickest way back to full economic recovery.
"I do think it's time to get back to normal," he said. "We paid a heavy price for sending people home."
McConnell agrees with President Joe Biden that there is a danger of declaring victory too soon.
"I think we need to cautiously come out of this," McConnell said.
But he and Biden seem to agree on little else. The Senate Minority Leader and every other Republican senator opposed the administration's nearly $2 trillion coronavirus relief package.
"The reason is only 1% of it is for vaccines," he said. "That's what we're talking about here today. Only 9% of it is for health care. That's problem."
McConnell said the bill was too bloated, considering the worst of the pandemic appears to be over.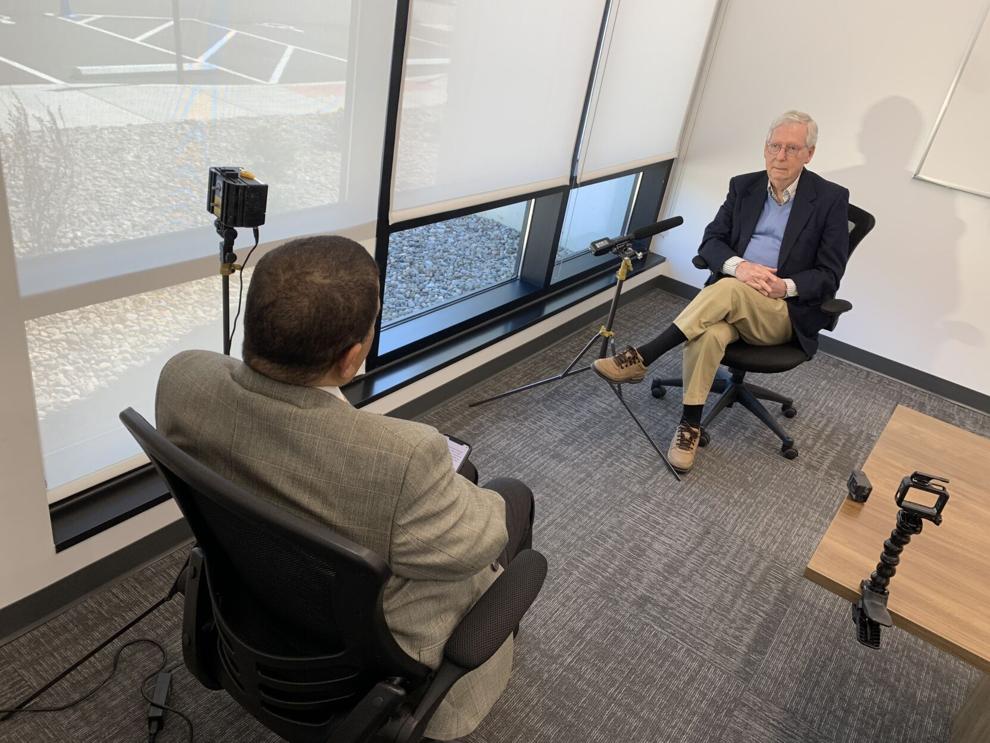 "I think it was overdone, too much, but it looks like what they like to do is spend and tax," he said. "And we're going to see an example of that coming our way again as the president this week announces his so-called infrastructure bill that's going to be a Trojan Horse for big tax increases."
As he battles the current president on one flank, McConnell is also taking heat from the former president on the other. Ex-President Donald Trump has questioned McConnell's leadership, calling him a "dour, sullen, political hack." But, as he did when Trump was in office, McConnell refused to take the bait.
"I'm not particularly concerned about what he may say ... We're moving on," McConnell said. "We've got to deal with life as it is today and to try to get the Senate back next year."
McConnell said the verbal jabs from the former president will not deter him from trying to win back a Republican majority in the Senate.
"I want to win in November, and in order to win in November, you have to have the most electable candidate nominated," he said. "So, I personally don't care whether a particular nominee is a fan of the former president or an opponent of the former president. What I care about is whether they can win."
Regardless of whether he again becomes majority leader or remains in the minority, McConnell said he plans to be in the Senate for a long time. His support of a state bill which limits the governor's power to fill vacancies in Congress led to speculation that McConnell planned to retire early.
"I'm not going anywhere," he said. "I'm happy and pleased to have been re-elected last year by a very comfortable majority."
Copyright 2021 WDRB Media. All Rights Reserved.