BRANDENBURG, Ky. (WDRB) -- The Meade County jailer is under investigation after he shot at a man during a traffic stop.
The agency heading up the investigation of J.J. Scarborough is the Meade County Sheriff's Office, a department located just feet away from his jail.
Scarborough denies any wrongdoing during the April 26 shooting, which began when Scarborough said he saw a car roll through a stop sign and ended with shots fired.
Scarborough would not appear on camera to talk about the case Tuesday, but he said he shot at the driver of a 2002 Chevy Cavalier in self-defense. Despite his claims, there is no public record of what happened that night or even an arrest citation for Patrick Joyner, the man police say was behind the wheel.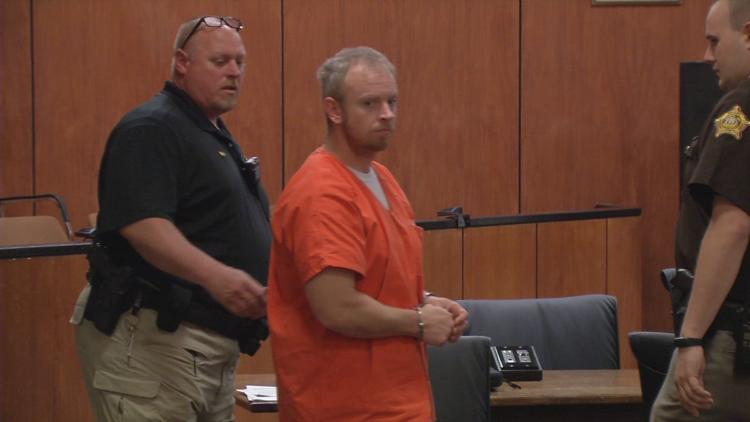 Joyner, who was charged with drug trafficking, is also son of Brandenburg Mayor Ronnie Joyner. Andrew Rhodes, Joyner's attorney, wants to know why there's only an April 30 arrest citation detailing a search warrant for Joyner's car. Investigators say they found a scale and white residue that tested positive for methamphetamine.
But there's no record of the chase four days earlier.
"I'm overly confused as to why are there two cases here," Rhodes said. "The one case I see doesn't mention any of that stuff."
Meade County officials say they are not releasing information publicly, because it will be presented to a grand jury which will decide whether to pursue charges against Joyner. 
Scarborough said he was in a county-owned unmarked pickup truck, and his lights and sirens were activated, when he pulled over Joyner, who initially stopped.
No body camera or dash camera video is available.
WDRB News requested all dispatch audio and 911 calls, which provide insight into what happened that night:
Two weeks later, the Meade County Sheriff's Office released a statement saying Scarborough saw a passenger in Joyner's car get thrown from the vehicle before Joyner took off.
Dispatch said Ray Whited, the chief deputy of the Meade County Sheriff's Department, and David Greer, a Meade County constable, were also there. The jailer said Joyner's unidentified passenger started getting out of the car during the traffic stop, and Joyner then took off with his passenger hanging out of the car. Scarborough said he saw Joyner push the passenger out.
Scarborough said the chase lasted about 8 miles, which started on Old Ekron Road in Ekron, south to Guston and Bewleyville Road.
"Mr. Joyner had spun around in the dirt and lost control of his vehicle," said Paul Nino, a deputy with the Meade County Sheriff's Department. "Another vehicle pulled in front of him and blocked him in. 
"He attempted to go forward and strike the individual with his vehicle. At that time, that's when the shots were fired."
Scarborough won't say how many times he shot at Joyner's car, and police won't say either, or even where the car was shot.
Meade County Dispatch called Kentucky State Police for help.
Kentucky State Police declined to investigate, saying it's a local issue.
The jailer said he rarely pulls people over and had only planned to issue a warning for the rolled stop sign until the chase happened.
State law gives "peace officers," including county jailers, the power to use lights and sirens to pull over vehicles, carry a gun and make arrests.
Authorities are unwilling to show the car, or even a picture of it, saying it's part of the ongoing investigation.
"It was being stored in our hangar," Nino said. 
Joyner is currently being held at the Breckinridge County Detention Center.
Neither Brandenburg Mayor Ronnie Joyner nor County Attorney Jessica Brown Roberts were willing to comment on the case.
Copyright 2019 WDRB  Media. All Rights Reserved.