MT. WASHINGTON, Ky. (WDRB) -- The Mt. Washington Police Department is welcoming a new member to the team.
He's a German Shepherd K-9 trained to find narcotics anywhere and everywhere. The dog is able to pick up scents of drugs that even humans can't.
The department was able to purchase the $10,000 dog through a donation from local business Material Handling Systems. Other businesses and partners have agreed to provide veterinarian services and food. The dog is of no cost to the city.
His name is "Bane," which was chosen by MHS employee Dennis Martin. He told WDRB News that the choice was simple after he read the meaning of the name Bane. 
"The definition of the word means to cause great stress and annoyance," he said. "I'm hoping that's what Bane does to those who traffic their poison to our families and friends and loved ones."
The police department has the same hope, that Bane will help put a stop to drugs being trafficked in the community.
"We want to aggressively attack the drug problem," Chief Troy Pitcock said. "We know that narcotics leads to thefts, to violent crime, to property crime, all those kind of things. Certainly by us addressing that issue, that's going to help impact our crime in this city as well."
The K-9 has been with his handler, Mt. Washington Police Officer Jesse Bratcher, for over a month. The two have completed various training sessions together and have both been certified.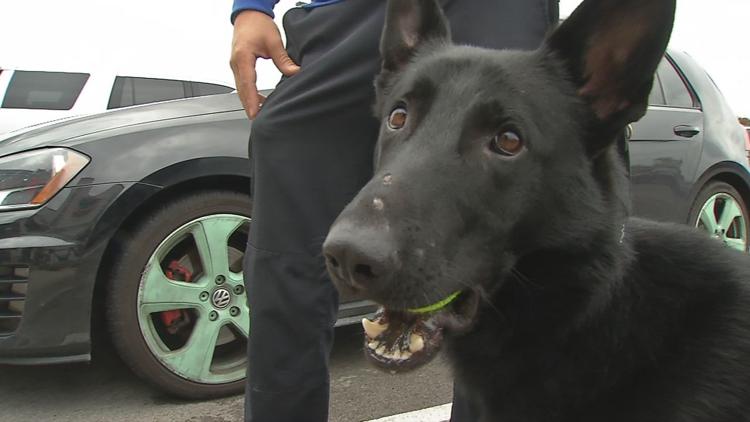 Bratcher is excited to see how impressive Bane is on the streets.
"In Kentucky, Mt. Washington, there is a huge amount of narcotics in the area getting transported, sold," Brather said. "His nose is a huge help."
Bane is expected to officially get to work for the department sometime next week.
Copyright 2019 WDRB Media. All Rights Reserved.