LOUISVILLE, Ky. (WDRB) -- A newly renovated basketball court in west Louisville is now named in honor of Breonna Taylor.
Friday afternoon, to the chants of "Breeway," Councilwoman Donna Purvis, D-5, and the Russ Smith Foundation unveiled a new mural of Breonna Taylor on the court in Lannan Park at 27th and Northeastern Parkway.
The mural came about after discussions between Metro Parks, the Russ Smith Foundation, and Purvis. The plans were announced last August, prompting a call to action for artists to collaborate on the mural.
Ultimately, it was created by both local and national artists, including Comacell Brown Junior, who was on hand at Friday's unveiling.
"We participated in painting a Breonna Taylor mural in Annapolis, and we knew how impactful it was for the country, so we felt like it would be imperative to put it here in Louisville to help with the healing and the community," he said.
On March 13, 2020, Taylor was shot and killed by Louisville Metro Police officers serving a search warrant at her apartment. Her death sparked national outrage and months of protests in Louisville. 
The basketball court is now officially dedicated to her memory. Her mother, who was also at the mural unveiling, said she's grateful for the support.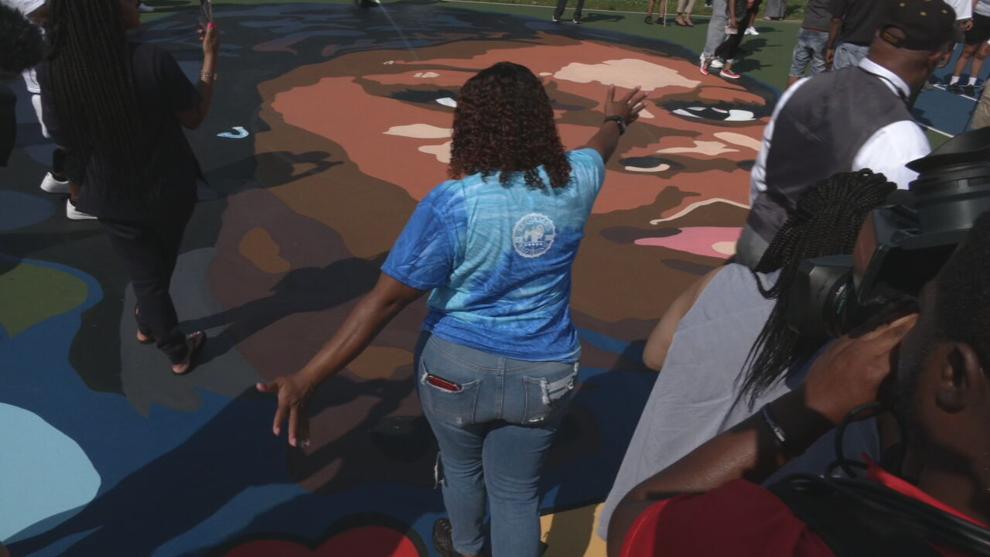 "I'm grateful. I'm just ... I'm happy, then to have so many people, good people around to honor it and support it," Tamika Palmer said.
The event kicked off a full weekend of celebrating Taylor's birthday, which is June 5. She would have turned 28 years old this year.
Related Stories: 
Copyright 2021 WDRB Media. All Rights Reserved.