AUSTIN, Ind. (WDRB) -- School's out for the summer at Scott County District One in Austin, Indiana, but the maintenance workers are still here getting ready for the new year.
"It's getting ready to get hectic. All the kids are coming back," said Jim Williams. He along with Larry Morgan and Lanny McIntosh have their hands full mowing the lawn, trimming trees and changing light bulbs.
"Just about anything they call us for, we show up and try to tackle it," McIntosh said.
And while students aren't filling the empty halls, something else is. It's the beautiful blend of harmonizing hard working guys who are blessed with a hidden talent. In addition to caring for the schools, the three workers strike the right chord in perfect three-part harmony.
"The blend is there and everyone is on pitch and the same volume and it's nice, a good feeling," McIntosh said.
For Williams and Morgan, it runs in the family because they're cousins. "Southern gospel. It's what we grew up on," Morgan said.
McIntosh joined the trio a few years ago. "He actually sang with the dinosaurs so he actually got us on track," Williams said.
Together, they make sweet, sweet music.
"There are certain notes when you hit and it's so tight, it's like wow. Chills. Was that us?" Morgan said.
They never know when a song will strike, but they're always ready to serenade.
"If you're changing lights. Say we change a whole light in the baseball barn and something hits us. Hit it!" Morgan said. 
Lucky for them, the schools offer plenty of places to practice. "The gym, the restrooms, the cafeteria," Morgan said.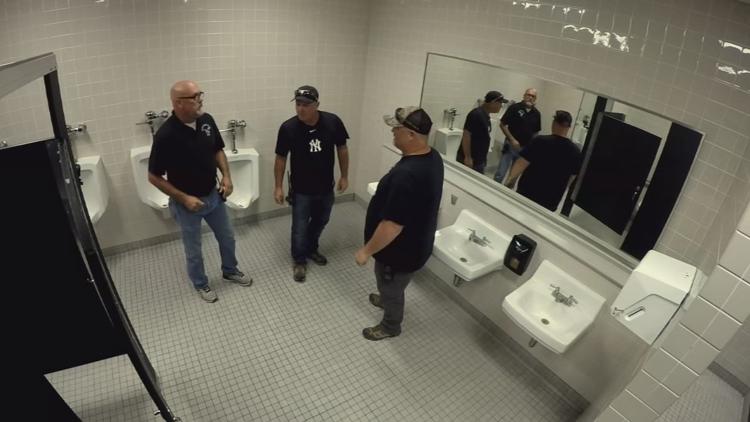 "You got to take advantage of it," Williams added.
Trevor Jones, the superintendent of the district, describes the three as a barbershop quartet. He says the students and staff are proud of the talented trio.
"They're great ambassadors for your school district and they also do a great job of maintaining our school and getting our school ready for the year," Jones said.
They've even started recording their bathroom jam sessions and posting the videos on Facebook.
"I think it surprised us probably more than anybody else that we got 12,000 some views on Facebook on this one little video," McIntosh said.
Now sharing their impromptu, pitch-perfect performances with everyone to enjoy.
"There's like an extra part of harmony. When you hit it, you know it and you don't want to stop singing," Williams said. 
Copyright 2019 WDRB News. All rights reserved.