LOUISVILLE, Ky. (WDRB) -- Louisville Metro Police has arrested a second suspect in connection with the kidnapping and torture of a man, and this suspect is charged with attempted murder.
According to an arrest report, 26-year-old Carter Bergin was taken into custody Tuesday afternoon.
Police say the incident began Monday in the early morning hours. The victim claims he was at 29-year-old Garrett Payne's apartment on Whisp Brook Circle, just east of the intersection of Blue Lick Road and Whispering Brook Drive.
Court documents say Bergin and Payne believed the man had stolen methamphetamine from them, so they made him take off his clothes while they searched him. They then tied his hands and feet with zip ties and put a dog collar tightly around his neck. Police say they then punched him in the face, put vice-grips on his toe and used an angle grinder to cut his thigh. 
They then allegedly beat him with the butt of a handgun and put a drill against his chest and legs.
Police say they then removed the zip ties from the man's feet so he could walk and put him into a vehicle before driving him to another apartment.
At that point, Bergin allegedly said that they'd have to kill the man and get rid of his body, and he said he knew a place to dispose of the body about 100 miles away.
"It's just scary to think that two adults can sit there and plan the demise and killing of someone else," said Shyann Arballo, who lives nearby.
The man escaped when Bergin and Payne left the car, and he was able to free his hands. He then found an LG&E worker and asked for help.
He was taken to the hospital, where it was determined that he had serious injuries to his leg and forehead. Louisville Metro Police Spokesman Dwight Mitchell said he is expected to recover.
"I'm glad everybody else is safe, no one else got hurt, and that they got caught," said Ernad Matanovic, who lives nearby.
Police arrested Payne Monday afternoon and charged him with kidnapping. A not guilty plea was entered on his behalf early Tuesday morning, and District Court Judge Jennifer Wilcox increased his bond from $75,000 to $1 million.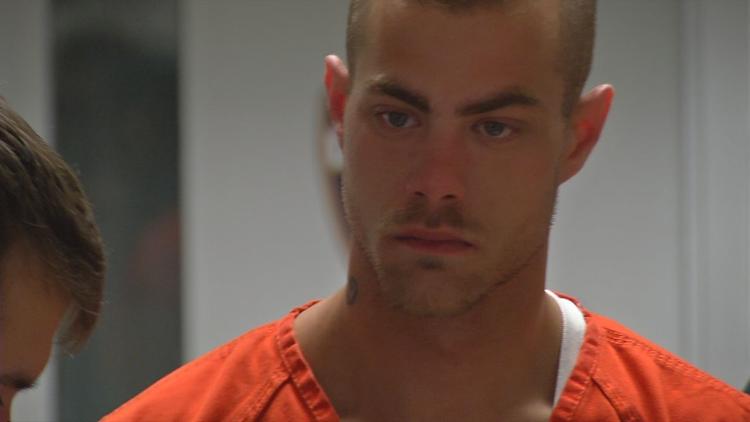 On Tuesday afternoon, police visited Bergin's apartment in an attempt to question him, but his parents told officers he'd fled the home just before they arrived.
A short time later, officers learned of an injury crash nearby on Blue Lick Road near Mud Lane. The crash involved Bergin's vehicle.
One person in another vehicle who was involved in the crash was taken to the hospital with injuries. Their condition is not known.
When officers arrived at the scene, they say a witness told them they tried to stop Bergin after the crash, but he pulled a knife on them and ran away. Police say he led them into a foot chase through a wooded area, but he was eventually captured with help from a K-9 unit.
He was taken into custody and charged with attempted murder, first-degree assault, kidnapping, second-degree assault, leaving the scene of an accident, first-degree fleeing and evading police and menacing.
Both he and Payne are currently being held in Louisville Metro Corrections.
Related Stories:
Copyright 2019 WDRB Media. All Rights Reserved.