JEFFERSONVILLE, Ind. (WDRB) -- Concerned neighbors and the developer of a controversial Jeffersonville project met face-to-face at a meeting Thursday night.
The developer, BWI out of Indianapolis, is planning to build a 45-unit transitional living and supportive housing complex called Mariposa Springs inside the former Optimist Club property on Louise Street. 
"This is not a temporary housing facility," said Ryan Mitchell, vice president of BWI. "This is not a drug rehab facility."
The developer said the complex would serve the homeless, those at risk of becoming homeless and those in recovery. BWI will partner will Lifesprings on the project. 
Almost every person who showed up to Thursday's community meeting had big issues with the project.
"This not the place for it," Libby Himmelheber said. "We've got a day care right across the street." 
Himmelheber is one of many long-time residents who opposes the project, but not everyone is against it.
"Everybody deserves a chance, even a second or third chance" Leslie Croft said. "And this fear mongering stuff is crazy."
Jeffersonville's City Council unanimously approved a zoning change to make way for the project. But last week, Mayor Mike Moore announced he will ask the council to change the zoning back to what it was before, which, in theory, would prevent the apartments from being built.
"To say I was shocked would be an understatement because of the all the communication we've had back and forth with the city," Mitchell said.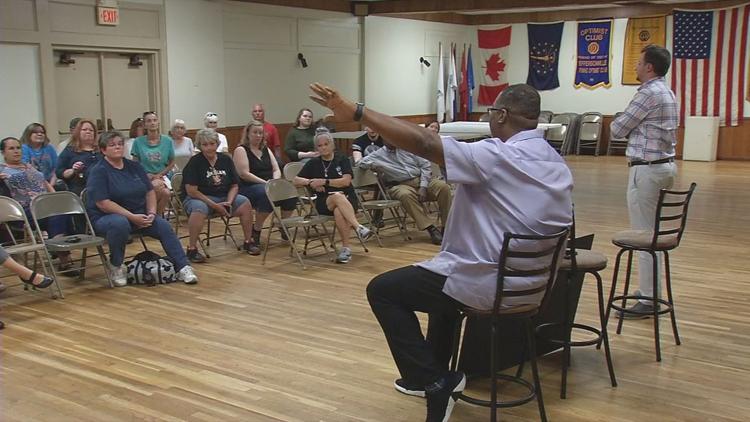 The developer previously tried to build the facility on Ewing Lane but pulled the zoning application after feedback from neighbors. Since the zoning change has already been approved for the Optimist site, the developers aren't sure what the future will hold.
"It's a bit of a head-scratcher, and I guess we'll see how it turns out," Mitchell said. 
The Jeffersonville city attorney said Indiana law gives the city council the authority to re-zone any property it wants. The issue will be taken up at the next Plan Commission meeting on May 28. 
Related Stories:
Copyright 2019 WDRB Media. All Rights Reserved.