BARDSTOWN, Ky. (WDRB) – A Nelson County basketball coach is still focusing on the court just days after his house went up in flames.
It happened early Saturday morning in Bardstown at the home of Zach Allender. Neither he nor his two children were home at the time.
"I'd just purchased the home back in the summer," Allender told WDRB News Monday. "An ember or something could have popped and came through the vent and started smoldering on the floor when the fire started in the living room."
It's believed his home is a complete loss.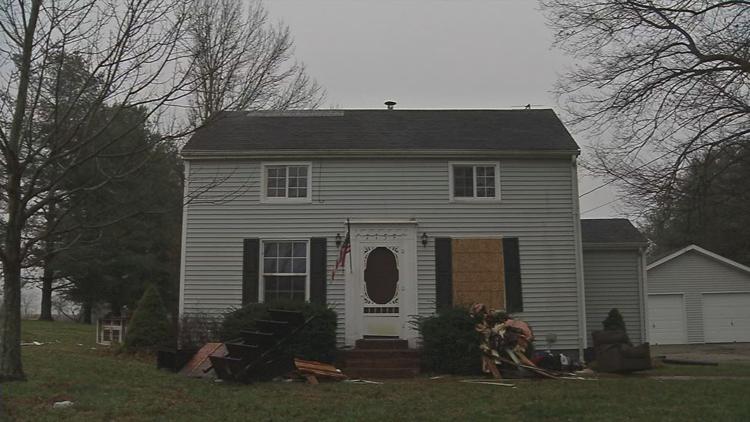 Since then, Allender has been through the debris looking for anything he could salvage. He found some items from his father's funeral he said he cherished and is happy to find again. Not much could be saved. Boards and burned furniture now litter the front yard after fire crews made their way in through a front window.
"All that I had and my kids had is on my back. I had my pants, my shoes, my shirt and jacket. Everything else was in the house," Allender said.
Over the last two days, donations have been pouring in — parents, staff, and students all helping how they can — even rival schools offering help.
"People have brought in clothes and furniture and toiletries and just the things that often times you take for granted but when it's all gone you realize how badly you need it," said Nelson County High School Athletic Director Matt Reynolds.
Monday afternoon, Allender's focus was back on his 40 players and making sure they play the best they can. He said practice is a good distraction from the weekend fire but he is remaining optimistic.
Allender is now staying with a friend until get gets back on his feet. His dedication remains on the court — all while keeping a smile on his face.
"You can sit and dwell on it and kind of, as my dad would say, kind of pout about it or you can just move on and rebuild," Allender said.
Donations and supplies can be brought to Nelson County High School at 1070 Bloomfield Rd. in Bardstown during normal business hours. 
Copyright 2020 WDRB Media. All Rights Reserved.