LOUISVILLE, Ky. (WDRB) -- New Albany Floyd County Consolidated School Corporation will be using a mix of non-traditional instruction, eLearning and closures for the next three weeks starting Monday as schools across Indiana stop in-person learning until at least May 1 in response to the novel coronavirus pandemic.
Gov. Eric Holcomb announced the decision to shutter schools on Thursday as part of the state's efforts to limit the spread of COVID-19. 
Teachers in the district will begin developing instruction plans Monday and Tuesday, with students completing work on non-traditional instruction and eLearning days Wednesday, Thursday and Friday. Materials will be available digitally or can be picked up at schools from 7 a.m. to 3 p.m. Wednesday through Friday, according to a letter sent to district families Tuesday.
Students in kindergarten through sixth grade will utilize non-traditional instruction plans while students in seventh through twelfth grades will use eLearning to complete assignments, the letter says. Students with individualized education plans will have tailored lessons provided.
Students who lack internet access at home can use wireless internet at Floyd Central High School's and New Albany High School's parking lots, according to the letter. Those who have technical issues with school-issued devices are asked to call 812-542-4700.
Teacher preparation and collaboration days are scheduled for April 6 and April 13, with non-traditional and eLearning days slated for April 7 through April 10 and April 13 through April 17, with packets available for pickup at schools on those dates.
Additional guidance will come from teachers and principals, the letter says.
"We appreciate your patience and support as we explore this new format of learning," the letter, signed by administrators Tony Duffy, Steve Griffin and Louie Jensen, says. "We will be in frequent communication as developments occur."
The district is providing free breakfasts and lunches at four school sites as it closes with others across the state in response to COVID-19. Meals are available on Mondays, Wednesdays and Fridays.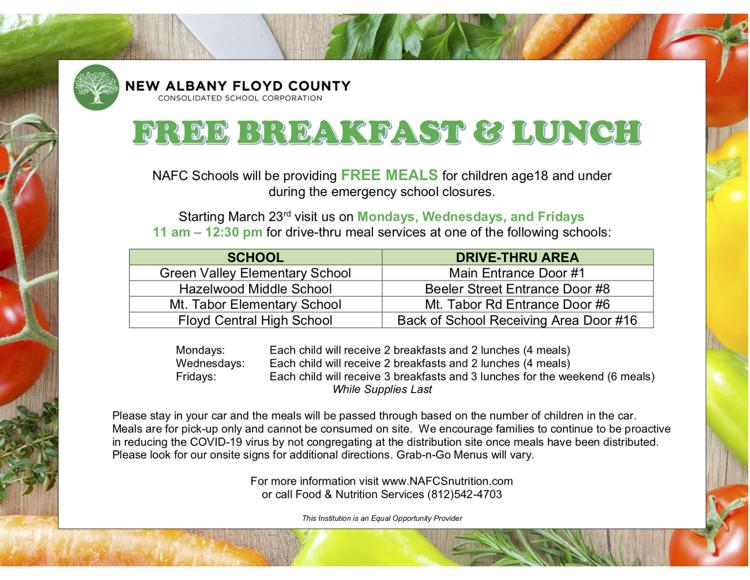 Copyright 2020 WDRB Media. All Rights Reserved.