NEW ALBANY, Ind. (WDRB) -- Floyd County Brewing Company is a stone's throw away from the Sherman Minton Bridge, and owner Brian Hampton feels that side of town is missing out on development.
And he thinks lighting up the bridge would change that.
"When you're trying to sell a home, what do they always say? Dress up the front of it and make it attractive," Hampton said. "Well, this is the front of New Albany."
A push for lights on the bridge is lighting up, led by city leaders and small business owners like Hampton.
"There's a whole sector down here around the bridge area that is really not generating much tax revenue for the city or state," he said. "And it should be."
City councilmen are already on board with the idea. Jason Applegate and Al Knable are both in favor of the project and agree that it could get the ball rolling for more development and tourism in New Albany.
"We need to make a compelling case for people to come visit New Albany," Knable said. 
"It could be an art piece instead of just darkness at night," Applegate added.
The two councilmen, Hampton and an attorney are meeting Wednesday to form a 501(c)(3), which will give the group the ability to accept donations from corporate donors. 
"It'd be great to have grade school kids putting pennies in a jar, and it'd be great to have local corporations putting five-figure checks in a jar too," Knable said.
Studies that the project would call for could cost thousands of dollars, installation would surpass at least $1 million, and the cost of yearly operation would be high as well.
According to Knable, the Indiana Department of transportation has already ruled out state and federal funding for the project but said there would be no push-back at all. 
There's still a long way to go in the process, but the end goal is to do something similar to what dons its sister bridge in Memphis.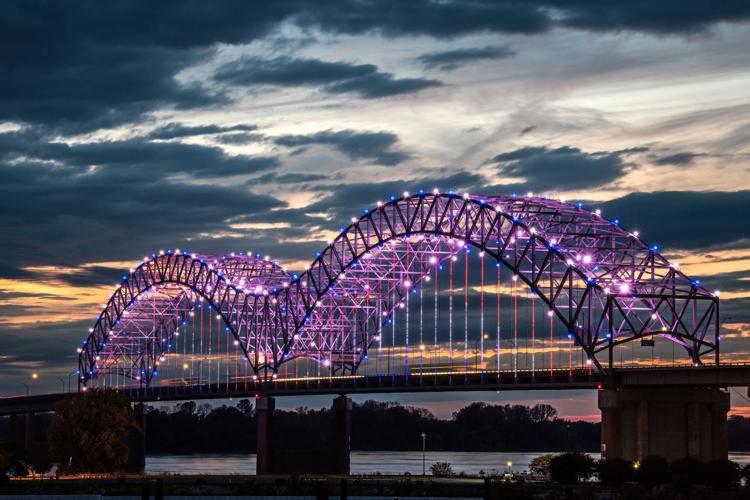 "You're talking about figuratively and literally putting New Albany on the map in a different way," Knable said.
There's no timeline on when this could be completed.
Copyright 2020 WDRB Media. All Rights Reserved.