LOUISVILLE, Ky. (WDRB) -- A Louisville rescue group rescued 11 puppies put in a box and dumped in a ravine in eastern Kentucky.
The Arrow Fund was alerted to the puppies Thursday evening. They were found in a Keurig box, tossed down into a ravine in Tyner, Ky., in Jackson County.
"It's unbelievable to think that someone could take these innocent lives and just discard them like trash," said Rebecca Evans, founder and president of the Arrow Fund.
The puppies are so small that their eyes aren't even open yet. Eaves estimates they're 1 to 2 weeks old. 
"We wanted to help these animals, and we knew that they needed help, a lot of help, immediately," she said. 
After four legs of a transport trip by several volunteers, the puppies made it to Louisville early Friday morning. 
"They were so hungry and dehydrated, and we needed to get them warm and everything," Eaves said. 
The puppies are now named after Game of Thrones characters. It's too early to tell what type of dogs they are. 
Mostly all of them are doing very well, and only two aren't eating as much as Eaves would like. They'll be split up and sent to foster homes for around-the-clock feedings and care.
The next step is to find the person who dumped the puppies. The Keurig box has given some clues to help track them down. Based on a sticker on the box with UPC and serial numbers, the Arrow Fund believes the coffee maker was bought a few weeks ago at a Walmart.
"We are going to hand it over to law enforcement, and we sure hope that we can find this person," Eaves said. "This is a dangerous person that would do this type of thing."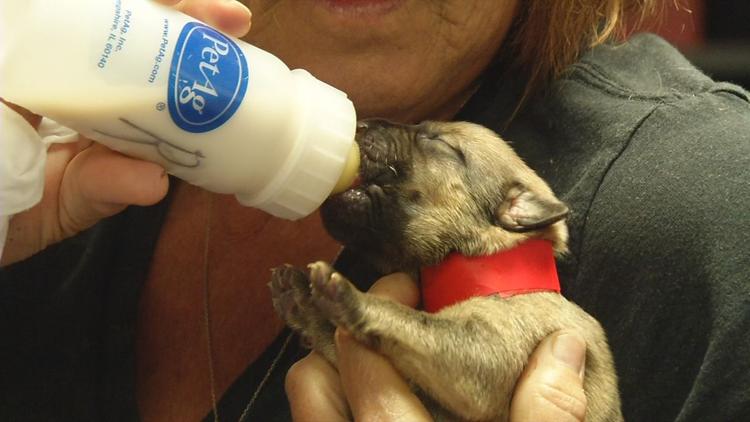 The Arrow Fund needs donations to provide the necessary vetting and care for the puppies. Click here for more information.
Copyright 2019 WDRB Media. All Rights Reserved.