CLARK COUNTY, Ind. (WDRB) -- Matthew Bays, the accused ringleader in a suspected drug smuggling operation, appeared in court Monday afternoon. His attorney, Larry Wilder, wanted to discuss with the judge a motion he intends to file.
Bays, who was arrested last week, faces 26 felony charges connected to an elaborate scheme to smuggle drugs into the Clark County Jail. Ten inmates are also facing charges.
The court has appointed Wilder as Bays' public defender. All defendants in the case are being specially appointed outside public defenders. Wilder said this is a first. He's never been asked by the court to step in as a public defender in his 33-year career.
"They're required to have outside public defenders, because there's a filing in the court that said there's inherent conflict of interest for the Public Defenders Office to continue to represent all of these different accused, which seems to be an implication that there's an individual who has a public defender who has information or is in a position to conflict out the entire office," Wilder said.
Wilder said he couldn't comment with much detail about the case or his defense strategy, because they still need to go through all the evidence or surveillance videos, texts and emails. He said more information could come out soon, because some of the defendants have requested speedy trials. So trials could start in the next 70 days.
"And then when we get to the place to figuring out why there was the need for special public defenders and what created the conflict, that will be an interesting piece of the case too," Wilder said.
During the court appearance Monday, Wilder said Bays was on probation from a different case in Floyd County at the time of his arrest. So there is now a warrant out for Bays' arrest in Floyd County. Wilder is trying to bring that case to some sort of close or combine it with the Clark County case so that they can focus on just one case.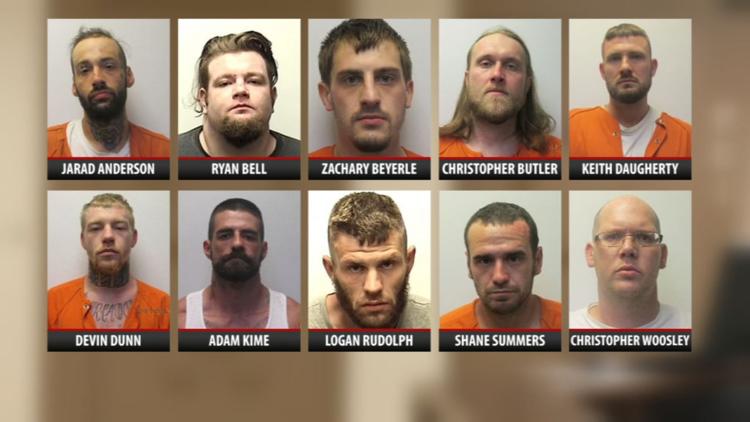 Once that's possible, Wilder intends to file a motion to reduce Bays' bond and request he be released. Bays currently has a $100,000 bond. His next pre-trial hearing will be in January.
Bays is pleading not guilty. If he's convicted, he could face 22 to 74 years behind bars and up to $240,000 in fines.
Related Stories:
Copyright 2019 WDRB Media. A'l Rights Reserved.