SCOTTSBURG, Ind. (WDRB) -- A southern Indiana cafe hopes to brew both coffee and opportunities.
Inspired Grounds Cafe hope to open up this summer in Scottsburg and employ both teenagers and adults with disabilities.
After years of brainstorming and planning, Pamela Campbell and Christie Siekman were excited to share what's brewing inside a building on Gardner Street in Scottsburg.
"My mission is to give these guys a place to work and place to come and be able to hang out and be social," Campbell said.
The owners hope the coffee shop will give employees independence and pride.
"Both of us owners have special needs son,s and they both have Down syndrome," Campbell said.
"They are fully capable of having a job," Siekman added. "They just need assistance."
With limited job opportunities in Scottsburg and surrounding areas, the owners were inspired to create work spaces specifically for people who work differently.
"We have had such an amazing outpouring of support," Siekman said.
After testing the waters on Facebook, the ladies got the feedback and support they were looking for.
"The first post generated over 100 hundred comments of support and 'how can I help' and 'what do you need,'" Campbell said.
There's still a lot of work to do, but the business already has some of its signage, furniture and two very, very excited employees.
"I can't wait," Tyler Siekman said, showing off a tattoo of a coffee cup on his arm.
And after spending the last few years playing football, basketball and wrestling for Scottsburg High School, Dylan Campbell said serving hot coffee should be easy work.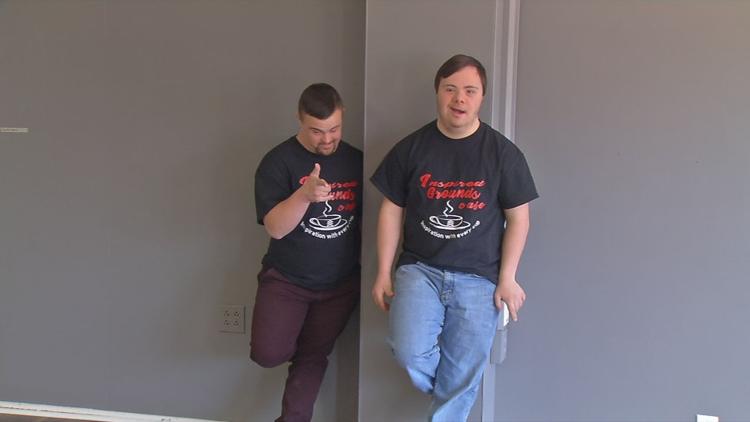 "I'll be a security guard," he said.
The owners are raising money through fundraisers and donations and hope to serve the first cup of coffee in July. They hope to employ at least 20 people, and starting pay is expected to minimum wage.
To visit the cafe's Facebook page, click here.
Copyright 2019 WDRB Media. All Rights Reserved.