LOUISVILLE, Ky. (WDRB) -- Six "sick out" days for JCPS means parents have been left to make tough decisions, but many still support the cause.
Stephanie Ware has four children in different JCPS schools. She said they've been taking the time to catch up on school work, do their chores, read and have more family time. On Thursday, she took her middle school daughter for some impromptu field hockey practice with her teammates.
Ware said she's had to call off work a few days, but she's lucky enough to be able to work more hours later on in order to make up that lost pay. She said the main inconvenience has been that the district will make the call so late in the evening, it makes it difficult for parents to make plans.
Ware understands it isn't as easy for many parents that have to balance caring for their kids and making ends meet, but she believes the majority of parents do still support the teachers' cause.
"For the most of the parents I know, we're in support of the teachers," Ware said. "Why shouldn't we all have each other's back when it comes to educating the future of our nation? They're not rallying in Frankfort for raises. They're not asking for anything outside of ... 'Don't take away what we're already lacking.'"
Rebecca Frederick has two young children in different JCPS schools. She helped start a Facebook page called JCPS Family Sick Out, specifically to show support for teachers.
"These bills will impact my children and me for many years to come," Frederick said. "We believe that in the long term, we need to have this fight now. So that we can be secure in the future."
Some families are hit harder than others. Mayghin Levine is the director of programs for The Cabbage Patch Settlement House, an after-school center for children. Levine said the children they serve, tutor, and provide programs and activities for are mainly from west Louisville.
Levine said as the sick outs continued, they noticed more and more children showing up to the center. They also heard from more parents looking for help to find food for their families or after-hours care for their kids.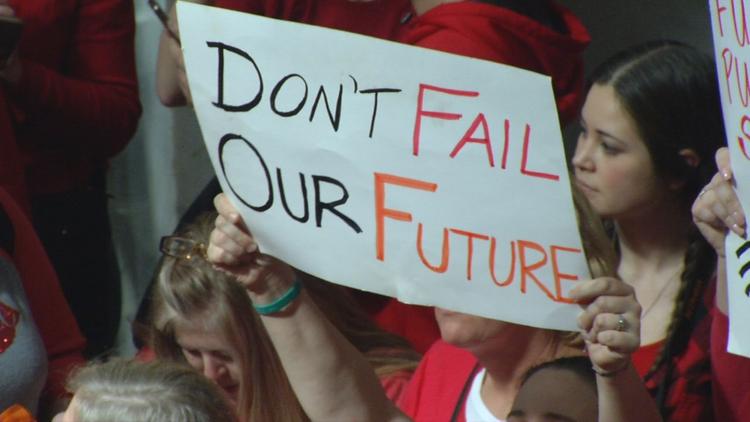 She said it has also been a learning opportunity for the parents.
"One of the big things we're hearing is they don't understand why the current situation is happening and why the teachers aren't in class," Levine said. "But when we take time to explain, they really understand what's happening, and parents are very supportive. They understand the value of teachers. They realize if the teachers can't do their jobs well, they can't help their kids."
Related Stories:
Copyright 2019 WDRB Media. All Rights Reserved.