BORDEN, Ind. (WDRB) -- The freezing temperatures and ice were no match for a group of folks who had one thing on their minds Saturday: helping others. 
It came, however, at a chilly price.
What is usually a beach packed with people along Deam Lake was packed with ice on Saturday, but that didn't stop dozens of people from jumping in for a dip.
The Polar Plunge benefits Special Olympics Indiana. It's the organization's most profitable — and coldest — fundraiser.
Some donned swimsuits for the 23rd edition of the event, while others opted for tutus or superhero capes.
The group was lead by a man with an Olympic torch in hand — a tradition no matter the weather conditions or event.
As he approached, cheers began.
"We are just out here trying to raise as much money as we can for these athletes and these partners so they have great events throughout the year," said Kathy Abell, who was registering plungers as they arrived.
Even those sworn to serve and protect took to the cold waters. Carey Huls with Indiana State Police was one of eight on his team to take the plunge, raising about $3,000.
"It's really an honor to be able to do this to help raise money to support such a great cause," Huls said. "It's cold, but it's a lot of fun."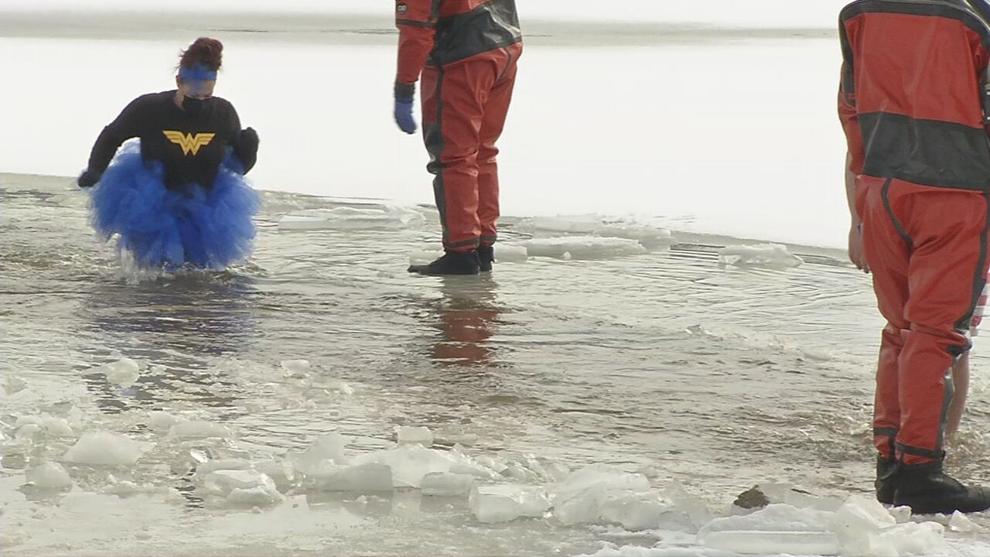 After hitting the water, the plungers were quickly given towels and escorted to a warming area.
Due to the COVID-19 pandemic, the event was different this year. Masks had to be worn until participants entered the water, and no spectators were allowed.
"This year is really different because of the pandemic," Abell said, "but people are still out here raising money and jumping for a great cause."
Organizers are still tabulating how much money was raised at this year's event.
Copyright 2021 WDRB Media. All Rights Reserved