LOUISVILLE, Ky. (WDRB) -- LMPD said a robbery suspect was shot and killed by an officer in Jeffersontown on Wednesday morning.
Louisville Metro Police spokesman Dwight Mitchell said it happened around 10:30 a.m. as LMPD officers tried to initiate an "investigative stop" on a white car, which was suspected to be involved in several business robberies in Louisville.
The stop was initiated near the intersection of Willow Avenue and Watterson Trail. Mitchell said the LMPD officer got out of his cruiser, and then the suspect hit the LMPD officer and then a Jeffersontown Police cruiser with the white car. Everything ended a block away at Ruckreigel Parkway.
Mitchell said, "as a result of that," the LMPD officer opened fire and hit the suspect, who was still in the car. No one else was inside the suspect's vehicle.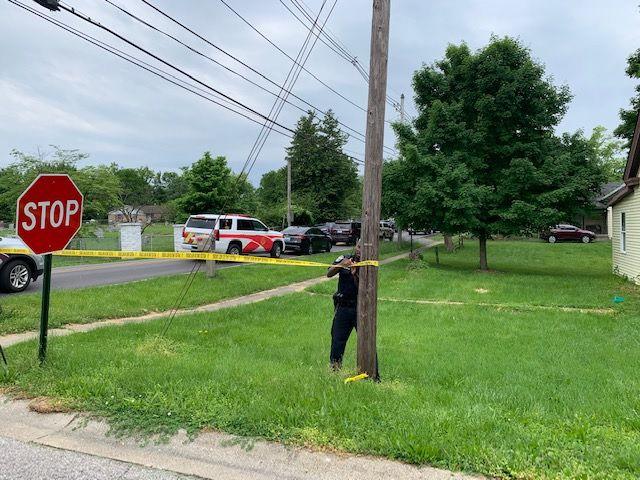 The male suspect was taken to an area hospital, where he was pronounced dead. No police officers were seriously injured.
"Certainly, it's an unfortunate situation that has happened," Mitchell said. "However, none of our officers were hurt seriously. And we'll conduct a complete and thorough investigation."
The LMPD Public Integrity Unit is investigating. Mitchell said LMPD Chief Steve Conrad will provide additional information Thursday.
Patrick Rodriguez, who lives nearby, heard it happen.
"I was just in the bathroom brushing my teeth, and I heard a crazy noise of breaking glass or something," he said. "It was really brief."
Little did he know, his wife witnessed the shooting since she was stopped at a light at the intersection where the traffic stop happened.
"She was like, 'Oh my God! There was a whole police engagement going on over here, and there was a shooting and everything.' And she was 10 feet away," he said. "Well, she said she saw a police stop where they were trying to, I guess, get the guy to at least get out of the car, and he wasn't cooperative, and he tried to get away."
We're at the intersection of Watterson and Dell in JTown, right next to the cemetery. Initially reported as a shooting and crash. Waiting on more information from police. pic.twitter.com/cThCMXvc2O

— Katrina Helmer (@KatrinaWDRB) May 15, 2019
LMPD has been criticized for officers' actions in recent traffic stops, which prompted the department to release a new policy separating "safety" and "investigative" stops. According to the policy, which does not take affect until August, an officer can make an investigatory stop in order to "investigate a potential crime other than a mere traffic violation."
The new policy is not set to take effect until Aug. 1, but Mitchell described Wednesday's stop as "investigative" and never used the phrase "traffic stop" while addressing reporters.
Copyright 2019 WDRB Media. All Rights Reserved.