SHEPHERDSVILLE, Ky. (WDRB) — Police in Bullitt County say a man accused of driving a stolen car drove himself to jail, and the woman it was stolen from helped track him down.
Krystal Thompson's bizarre Wednesday started around 2 a.m. at a Walmart in Shepherdsville, Kentucky. Shortly after walking out of the grocery store, she found herself calling 911. He car had been stolen.
"Never did I think I was going to get violated in a way," Thompson said. 
Thompson said she went back into the store, where employees looked at surveillance video and found a man taking off in her gold Ford Focus.
"I thought I was never going to see my car again," Thompson said. 
After Thompson filed a report with police, her husband came to get her. The couple was driving along Highway 44 when Thompson said a gold car caught their eyes. 
"My husband was like, 'Hold on; wait a minute,'" Thompson said. "I was like, 'What?', and he was like, 'I think that's your car.'"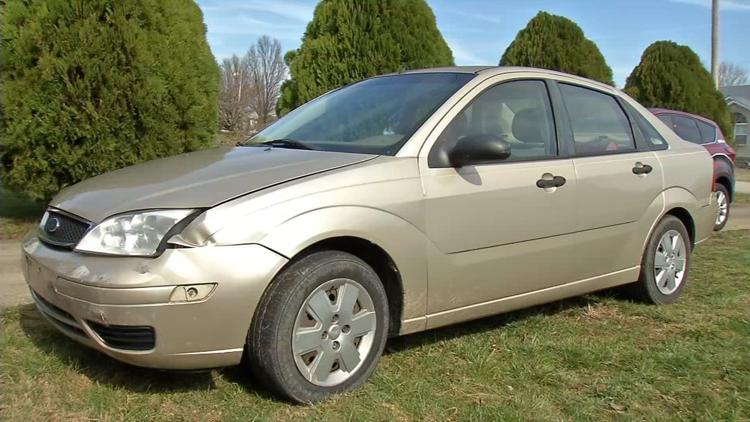 They turned around, and sure enough it was her car, Thompson said. She called 911 again.
"The whole time I'm talking to dispatch, I'm like, 'OK, this is where we are. This is what he's doing,'" Thompson said. 
Police took over the pursuit within minutes, and the chase ended shortly after the suspect, Joshua Altizer, 22, pulled up to the Bullitt County Detention Center.
Altizer tried to run away but did not get far before being arrested, police said. 
Thompson was happy when she got her car back in one piece.
"It's the only one I have," Thompson said. "I have kids that I have to take care of and raise, and that's how I feed them."
Thompson, a grateful mother of three, is wishing Altizer the best.
"I do hope that, number one, he gets the help that he needs," Thompson said, "and I thank God that everybody that was involved is okay."
Altizer faces multiple charges, including receiving stolen property and evading police. 
Copyright 2020 WDRB Media. All Rights Reserved.