LOUISVILLE, Ky. (WDRB) -- Louisville Metro Police said no cameras recorded when an officer shot and killed a robbery suspect in Jeffersontown on Wednesday.
Just before 10:30 a.m. Wednesday, LMPD officers tried to initiate an "investigative stop" on a white car, which was suspected to be involved in several business robberies in Louisville. In a news conference Thursday, Lt. Aaron Crowell, head of LMPD's Public Integrity Unit, identified the driver of that vehicle as 30-year-old Djuantez Anthony Mitchell. Crowell said Mitchell was suspected to have been involved in roughly six "violent business robberies" in the previous seven days in the Louisville area.
The LMPD Robbery Unit had Mitchell under surveillance Wednesday. Crowell said robbery unit detectives requested backup from LMPD's Air Unit and the Jeffersontown Police Department as they were going to attempt to stop Mitchell's car at the intersection of Watterson Trail and Ruckreigel Parkway. 
Chief Steve Conrad said one of those officers was Bryan Arnold, a pilot with LMPD's Air Unit. Conrad said the agency's helicopter was undergoing routine maintenance required by the FAA, so Arnold was assisting the robbery division.
"As these officers surrounded Mitchell's vehicle and attempted to take him into custody, Mitchell accelerated striking Officer Bryan Arnold and endangering three other officers on foot, before ramming a Jeffersontown patrol vehicle," Crowell said.
Arnold, who suffered minor injuries and was still upright, then fired, hitting Mitchell multiple times, Crowell said. Officers pulled Mitchell from the car and provided first aid until paramedics arrived. Mitchell was pronounced dead at the hospital.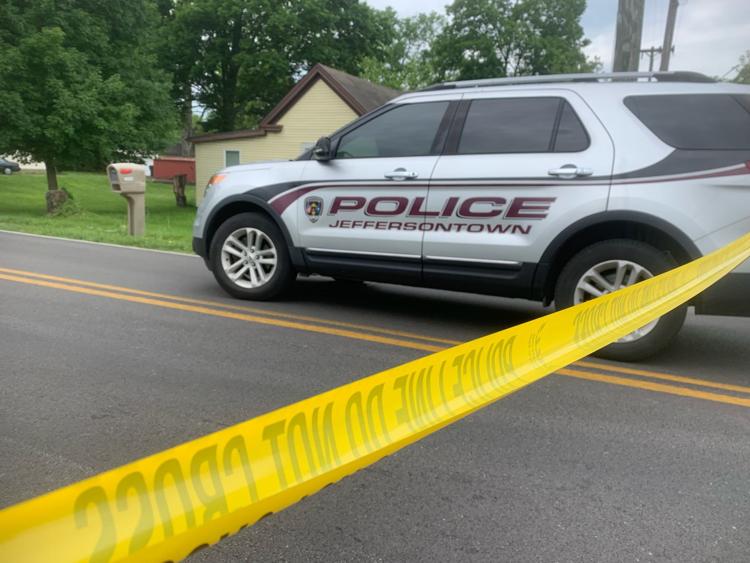 The 30-year-old suspect has a criminal history in Jefferson County dating back to 2007, most of which are misdemeanors and traffic violations. However, his court records also show a felony assault case from 2009 and a felony robbery charge from 2015. Crowell said he had an active warrant and an emergency protective order out against him at the time of the shooting.
Crowell also said Mitchell did not have a gun in the car with him Wednesday.
"The vehicle is the threat," Crowell said. "That was the weapon that was used by the suspect."
And the lieutenant said the Jeffersontown police officer who was on scene helping LMPD was in immediate danger when Arnold shot Mitchell. Crowell said she parked her cruiser in the intersection to help blockade the suspect.
"The Jeffersontown officer had exited the vehicle and was between the suspect and that vehicle at the time of the acceleration, which is why she was endangered by his actions," he said.
It is standard practice by LMPD to release any body camera or vehicle dashboard camera footage that may have captured a police-involved shooting. 
But in this case, Conrad said the officers involved were plainclothes officers using unmarked vehicles, so there isn't any dashcam or bodycam video of the incident. The Jeffersontown Police Department also does not use bodycam video, Conrad said.
Conrad called such videos "helpful," but added that, "they are just one piece of the investigation."
Conrad said Arnold is on administrative reassignment, which is standard procedure when an officer fires a weapon. The case is being investigated by the Public Integrity Unit.
"We owe it to the involved officer, to the suspect, suspect's family and the entire community to conduct a thorough investigation," Conrad said.
Related Stories:
Copyright 2019 WDRB Media. All Rights Reserved.