SCOTTSBURG, Ind. (WDRB) -- An accused drunk driver is expected to face several charges after police say he smashed his car into the side of Scottsburg New Tech High School, leaving a large hole in the side of the building.
According to a statement from the Scottsburg Police Department, officers were called to the school just after 3:30 a.m., after someone reported that a car hit the school. 
When officers arrived, they found a car with significant front-end damage driving across the grassy area of the school. That vehicle was driven by Charles S. Baker II, according to police.
When officers tried to stop him, Baker allegedly took off, driving northbound on US 31. He then turned onto SR 56 West, where officers were able to box him in.
"The airbags were deployed on the vehicle," Scottsburg Police Assistant Chief David Hardin said. "The front of the vehicle sustained a lot of damage. The lights weren't working on it. We really don't know what his thoughts were at the time."
Police say Baker sustained injuries from the pursuit and was drunk when they pulled him from the vehicle. Hardin said officers on scene could smell the odor of alcohol on his breath. He was taken to Scott Memorial Hospital for treatment, then transferred to the University of Louisville Hospital.
The extent of his injuries is not known.
The school's After Prom was being held in the main high school gym, and student and parents were cleaning up when Baker crashed into the New Tech building. Those witnesses were able to call 911 shortly after the crash.
Police expect Baker will be charged with leaving the scene of an accident, resisting law enforcement with a motor vehicle and operating a motor vehicle while intoxicated. Officers are waiting for the prosecutor to issue charges and then a warrant before they can arrest Baker.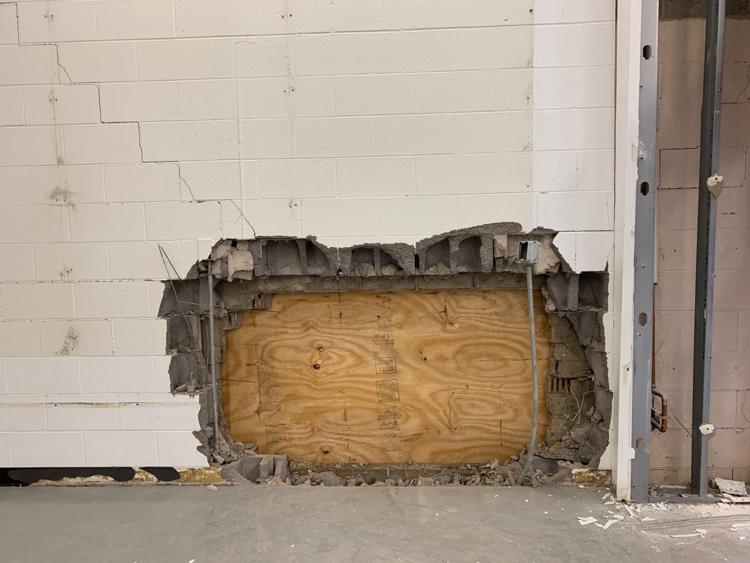 The Scott County superintendent said a structural engineer gave the all clear Monday for all rooms except the one where the car entered the building. Tuesday was originally scheduled as a community service day anyway, so class will resume on campus Wednesday. They'll find another space for the one affected classroom for the remainder of the school year while it's being repaired.
Copyright 2019 WDRB Media. All Rights Reserved.