LOUISVILLE, Ky. (WDRB) -- Sen. Mitch McConnell said Kentucky's influence in Washington is at stake as the election approaches the home stretch.
McConnell chose to vote early and in-person Thursday morning, with about two-and-half weeks left in the campaign. A small welcoming committee of well-wishers greeted the Senate Majority Leader as he arrived to vote at the Kentucky Exposition Center. 
The senator said his wife — Transportation Secretary Elaine Chao — cast her vote by mail, but McConnell, with cameras in tow, decided to vote in-person, presumably for himself. 
McConnell, who is trying to win his seventh term, admits running a campaign during a pandemic has been challenging, but he said he's confident voters will return him to Washington.
"Look, I don't own this seat. I have to earn it," he said. "And I'm confident the people of Kentucky believe I've done a good job and don't think it's a good idea to transfer the Majority Leader job from Kentucky to New York or to admit the District of Columbia as a state or Puerto Rico as a state and certainly not to pack the Supreme Court, all to which my opponent would do were she to replace me in the Senate."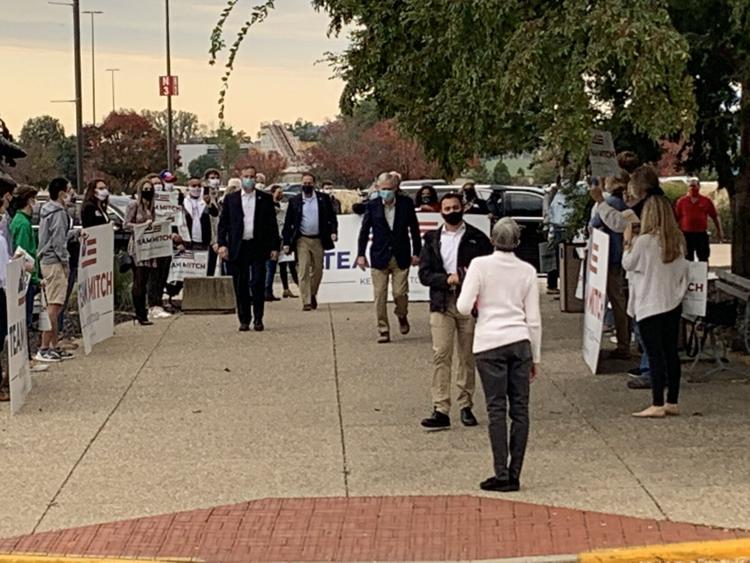 McConnell's Democratic opponent, Amy McGrath, voted in her hometown of Georgetown, Kentucky, earlier this week. She spent Thursday morning taking part in a virtual forum put on by Kentucky Youth Advocates. The forum is exploring federal solutions to family issues such as child abuse.
McGrath used the occasion to blast McConnell for the partisan divide that she said has broken the Senate.
"I think the biggest thing we can do, really, is to get rid of him and then see if we can make some structural changes and get us back to where we have traditionally had a Senate that has been able to work," McGrath said.
McGrath also blamed McConnell for the lack of a new COVID-19 stimulus package.
"It's BS," McGrath said. "We do have the resources to be able to help people right now.'
McConnell blamed Democrats for pushing what he called a "$2.5 trillion grab bag."
"And by the way, the bill has more money for Puerto Rico in it than it does for Kentucky," McConnell said. "Now, my opponent is for that bill."
McConnell heard both cheers and jeers from voters at the Expo Center as they decide whether he will return to the Senate and whether Republicans will still be a majority.
"I've been both, and I can tell you, the Majority Leader's better," McConnell said.
Despite the campaign, the Senate Majority Leader said he has been closely watching the confirmation hearing for Supreme Court nominee Amy Coney Barrett. McConnell said he plans to schedule a confirmation vote for Oct. 23, just 10 days before the election. And he said he has the votes to place her on the court.
Copyright 2020 WDRB Media. All Rights Reserved.