LOUISVILLE, Ky. (WDRB) – A former Louisville Metro Police officer who was suspended 30 days earlier this year for violating the department's social media policy called a black woman a "wild animal that needs put down" on Facebook, according to records just released by the department.
Brian Smith, who police say resigned in April, also posted that someone should take a microphone from Madonna and "beat her half to death with it" for studying the Koran. "That's a lesson in Muslin (sic) behavior for her."
After an internal investigation of more than one year, Chief Steve Conrad planned to fire Smith for three Facebook posts that "advocate violence against others" and "fostered mistrust of the police," the chief wrote Smith on January 16, according to documents obtained through a public records request.
Ten days later, on January 26, Conrad told Smith in a letter that a month's suspension without pay was an appropriate penalty.
WDRB News requested documents from the internal investigation after local public radio station WFPL won an Attorney General's opinion earlier this month ordering police to release the material.
The records, released Friday, give more context to Smith's post. 
The investigation stemmed from a December 2016 complaint to police that Smith should be fired for his "deep-seated bias against minority communities. Consider this post on his Facebook page about clothing choices made by mostly black youth."
The post reads: "Ok. … If you wear a hat, square it up on ur head and put a bend in the bill, and pull ur pants up. You really make me want to hit u as hard as i can in the face just to see if I can fold ur teeth inside ur mouth. I'm not saying id do it, for that would be illegal, immoral, and wrong, not to mention (and most important) could get me in trouble. That is all."
The complaint to police then includes a post of Smith calling a black girl an animal while linking to an article from MrConservative.com about a black teen allegedly "sucker punching" another girl.
"ANIMAL! Nothing but a wild animal that needs put down. There I said it."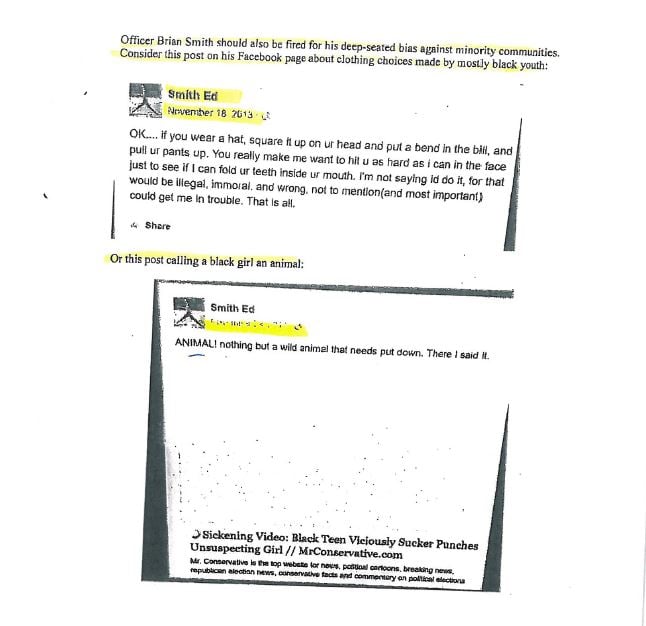 The documents also include an email from former River City Fraternal Order of Police President Dave Mutchler working with police to schedule Smith's interview with investigators.
The summary of the investigation includes interviews, but they were not included in the 22 pages turned over to WDRB.  Conrad wrote that Smith acknowledged the posts were his. 
In his January 16 letter to Smith, Conrad wrote, "I believe your posts can be construed by some to express ridicule, bias, disrespect or prejudice against members of our community."
The posts were brought to LMPD's attention by attorney Sam Aguiar, who is representing Darnell Wicker's daughters in a wrongful death lawsuit against the city and police. That suit is pending in U.S. District Court in Louisville.
Smith was present but did not fire his weapon during the August 2016 police shooting of Wicker, whom officers shot and killed at the Broadleaf Arms apartments near Crums Lane. Wicker was holding a "large curved bladed object," Conrad said.  
Conrad later exonerated Smith of any wrongdoing in the shooting. Jefferson Commonwealth's Attorney Tom Wine determined the actions of the other officers were justified. Wine said Wicker had a weapon and did not respond to officers' commands; Wicker's family argued he was holding a saw by his side when he was killed.
Smith had been named as a defendant in that lawsuit, but he was dropped from the case in 2017 at the request of both sides, court documents show.
As WDRB News previously reported, Smith was suspended without pay for 25 days in 2009 for sending inappropriate text messages to a minor who was his ex-girlfriend's daughter. He later was reprimanded after not reporting off-duty work.
Copyright 2018 WDRB Media. All rights reserved.